Ronda Rousey breaks her silence, promises 'I'll be back'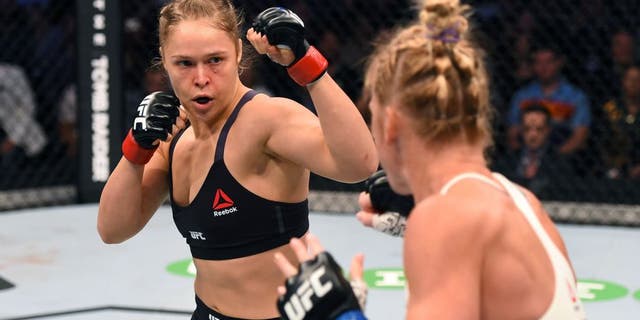 MELBOURNE, AUSTRALIA - NOVEMBER 15: (L-R) Ronda Rousey and Holly Holm size each other up in the first round in their UFC women's bantamweight championship bout during the UFC 193 event at Etihad Stadium on November 15, 2015 in Melbourne, Australia. (Photo by Josh Hedges/Zuffa LLC/Zuffa LLC via Getty Images) Josh Hedges/Zuffa LLC
Less than 24 hours after her knockout loss to Holly Holm at UFC 193, Ronda Rousey on Sunday night released her first statement, vowing to return via an Instagram post.
The now-former champion suffered the first defeat of her MMA career Saturday night in Melbourne, Australia, when Holm landed a head kick knockout less than one minute into the second round to bring their fight to a close.
"I just wanted to thank everyone for the love and support," Rousey wrote in the post. "I appreciate the concerns about my health, but I'm fine.
"As I had mentioned before, I'm going to take a little bit of time but I'll be back."
Here is the full post:
Rousey disappeared from the Octagon after Holm was announced as the winner and new UFC women's bantamweight champion Saturday night. Rousey was taken to the hospital for precautionary measures after suffering the knockout, and also received stitches in her lip, which was busted open during the fight.
Prior to the fight, Rousey had stated that she planned to take an extended break from action to film her next movie, "Mile 22" alongside Mark Wahlberg, and would probably return around UFC 200 in July 2016.
Following the loss on Saturday night, UFC president Dana White hinted that Rousey's first fight back would be a rematch with Holm, which could potentially headline the show headed for Las Vegas at the new arena being built there as part of MGM properties.