Romo would have taken pay cut to keep Murray on Cowboys, but says he wasn't asked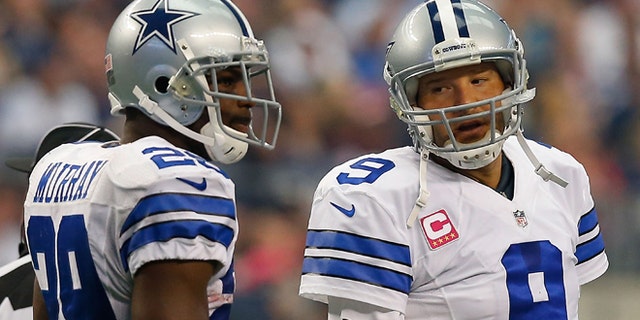 NEWYou can now listen to Fox News articles!
Dallas Cowboys quarterback Tony Romo says that he was willing to take a pay cut in order for the team to hang onto running back DeMarco Murray, the NFL's leading rusher last year who signed a five-year deal with the NFC East rival Philadelphia Eagles instead, the Dallas Morning News reported.
Making an appearance on "The Ben and Skin Show" on Dallas radio station, KRLD "The Fan," the Mexican-American Romo, who has a base salary for the 2015 season of $17 million, said, "I would take $5 million less if it meant getting him back."
"DeMarco ended up asking me, 'Why don't you take a pay cut?'" Romo said. "I said, 'I will. I would take a pay cut to go do this.'"
Romo pointed out that the Cowboys will take a salary cap hit of more than $10 million unless they restructure his current contract. "I was like, 'They're going to restructure me.' That's the same thing in some ways, just for the salary cap purposes.'"
The quarterback said he told Murray, "'Obviously, I'll restructure. I would even take a pay cut.' He was like, 'OK, we can be friends again.'"
In March, the Cowboys signed former Oakland Raiders running back Darren McFadden to a two-year, $3 million deal. Murray's contract with the Eagles could be worth as much as $42 million.
The 34-year-old Romo is coming off his best season ever, in which he completed nearly 70 percent of his passes. This is the first time in a couple of years that he hasn't had back surgery.
"I feel good," he said in the same interview. In recent off-seasons, he noted, he had to focus on rehabbing his back, but this year he's been "focusing on improving the back, and now I'm able to also do that while getting to do actual strength training."
Like us on Facebook
Follow us on Twitter & Instagram