'Home' has many meanings for the Dallas Cowboys' Tony Romo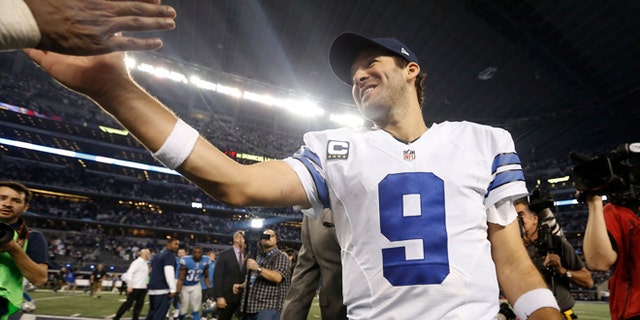 NEWYou can now listen to Fox News articles!
When the Dallas Cowboys line up for a 1 p.m. kickoff on Sunday at Lambeau Field in Green Bay, Wisconsin, one man will play an outsized role in whether or not the Cowboys advance to the NFC Championship game next weekend.
And he's a native of Wisconsin whose Mexican-American grandparents live in Texas.
At 34, Tony Romo had possibly the best year of his career, leading the NFL with a 113.2 passer rating and the Cowboys to a 13-4 record, which includes a dramatic come-from-behind 24-20 playoff win over the Detroit Lions last Sunday.
It's maybe the one thing that people know about him—that he has engineered more comeback wins than almost any other quarterback of his era. Since 2006, Romo—not Tom Brady, not Peyton Manning, not Drew Brees—has the highest fourth-quarter quarterback rating.
But there are a lot of things about No. 9 that many people don't know, among them that his true name isn't Tony or Anthony.
The man the sports world knows at Tony Romo was christened Antonio Ramiro Romo, his middle name a tribute to both his father, Ramiro Jr., and grandfather, Ramiro Sr.
"Tony was brought up to never be embarrassed by what he is," Ramiro Sr., told David Flores of the San Antonio television station, KENS-5. "He has many Hispanic fans who are proud of him and support him. Not only in the United States, but in Mexico and even Colombia."
As you might expect of a Mexican-American child growing up in Burlington, Wisconsin, not far from Chicago, Romo's first sport was soccer, which he played with his dad.
He decided to switch to football after his freshman year in high school.
"What position?" his father asked him.
"Quarterback," he said immediately.
Did we mention that Romo is persistent? In high school, he once tried to bicycle miles through a blizzard to try to get to a game after missing the team bus.
Romo has two older sisters. "I'm almost positive," his mother, Joan, who is of Polish and German descent, once told the Dallas Morning News, "if I had him first, I'd have had no other children… He wore me out."
Not highly recruited out of high school, he went on to star at D 1-AA Eastern Illinois University. He was signed as an undrafted free agent by the Cowboys in 2004 and spent two-and-a-half years as their third-string or backup quarterback.
"He sat there [on the bench] for such a long time," grandfather Ramiro Sr. admitted to the Fort Worth Star-Telegram. "We had our doubts, our family."
Ramiro Sr., now 81, moved to San Antonio from the state of Coahuila in Mexico, where his family owned a cattle ranch, when he was about 13.
"My brother lived in Wisconsin, and he said, 'I want you to come here and learn English,'" Ramiro said. "You didn't need to know it then in San Antonio, because San Antonio was like a little Mexico. I told him, 'I will go for six months.'"
He met a Mexican-American girl in Wisconsin named Felicita Rios and wound up staying for 30 years, working construction jobs and raising two sons, Ramiro Jr. and Mustafa John, who is adopted.
They moved back to Texas in the late 1980s, and now live in the small town of Crockett.
Meantime, Ramiro Jr. did a 5-year stint in the Navy and Tony was born in San Diego, but the family returned to Wisconsin shortly afterward.
And now Tony has two children of his own with his wife, Candice, both of whom were baptized by Ramiro Sr. who trained recently to become a deacon in the Catholic Church.
The whole family is still close. Felicita calls Tony before every game to leaves a bible verse on his voicemail, and Tony has asked them to move closer to Dallas "so I can teach him how to speak Spanish," Ramiro Sr. told KENS-5. "He said it's my fault because his father didn't speak Spanish. My son spoke Spanish until he was 14, but then he got away from it."
"I came to this country with very little," Ramiro Sr. went on. "But I worked hard and was able to provide for my family. This is still the country of opportunity, and Tony's career is proof of that."