Dallas Cowboys' Tony Romo, Dez Bryant drop ball against Green Bay, out of playoffs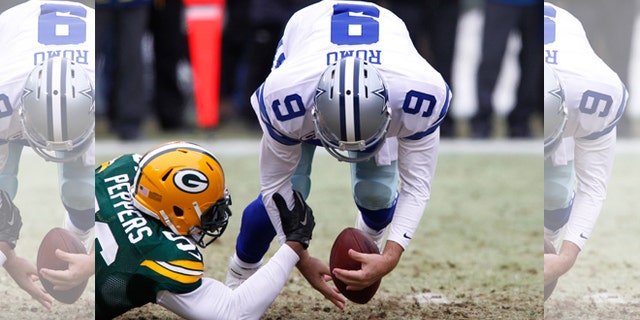 Tony Romo, Dez Bryant and the Dallas Cowboys had the game, and an improbable upset, in their hands. But they dropped the ball, and now it's Aaron Rodgers and the Green Bay Packers who are one step closer to the Super Bowl.
An officiating call proved decisive in Green Bay's 26-21 win Sunday over Dallas.
Rodgers went 9 of 9 in the fourth quarter, including a laser-like 13-yard touchdown pass to Richard Rodgers for the go-ahead score with 9:10 left of the fourth quarter. The final period also featured the officials overturning what was initially a brilliant catch by Bryant.
The wide receiver jumped high for a 31-yard pass from a gimpy Romo, who took a first-quarter hit to his already weakened knee, at the Packers 1 over cornerback Sam Shields, who had solid coverage on fourth-and-2 with 4:42 left in the game. But the play was ruled incomplete on replay review after Packers coach Mike McCarthy challenged the call.
The NFL rule states the receiver must maintain control all the way to the ground. Replays showed Bryant bobbled the ball as he rolled into the end zone, with part of it touching the field.
"Some people think throwing the red flag is fun," Packers coach Mike McCarthy said. "It was such an impactful play, you had to challenge. It was a confident challenge. And a hopeful one, too."
Hours after the game, Bryant tweeted: "as I went to the ground I rolled over and I tipped the ball to gain better control. We lost and I accept it but please change that rule."
The Cowboys were stunned. After going 8-0 away from home in the regular season, Dallas' road winning streak came to a stunning end.
Romo was an efficient 15 of 19 for 191 yards and two touchdowns in his return to his home state. Romo grew up in Burlington in southeastern Wisconsin.
"The calls, they don't go your way sometimes," Romo said. "It's disappointing whenever it does not go the way that you want. We had a chance to win."
"This is really, seriously one of the more disappointing times I've had on a personal basis," owner Jerry Jones said.
All wasn't lost after the overturned call. The Cowboys could have seized another chance with the ball if their defense had stopped the Packers on two third-down plays with less than 3 minutes left.
The Packers (13-4) converted both times and the Cowboys (13-5) started their offseason.
While almost every Cowboys fan will remember this game for the reversed call, coach Jason Garrett said the loss didn't come down to officiating.
"We had 60 minutes," Garrett said. "That play was big in the game, but there were plenty of other plays in the ballgame an unfortunately we didn't do things necessary to win the ballgame in the end."
But Garrett had nothing but praise for Romo. "When things don't go our way, he kept battling back. When people hit him, he kept battling back. He made critical throws throughout this ballgame and gave us a great chance to win it at the end," Garrett said, according to ESPN.com.
Rodgers finished 24 of 35 for 316 yards and three scores. But he said he realized that his mobility might be more limited than he expected after throwing a 4-yard score to Andrew Quarless in the first quarter.
Rodgers seemed be a bit more mobile as the game wore on. McCarthy said Rodgers got into a rhythm late.
Rodgers said he felt better moving to his left out of the pocket. He suspected that he might be limited again this week at practice for the NFC Championship game against Seattle next Sunday.
But there was no chance that he won't be playing.
"I think I got 120 minutes left in me," Rodgers said.
Based on reporting by the Associated Press.
Like us on Facebook
Follow us on Twitter & Instagram