Rio 2016: USA basketball looks for easy win against struggling Venezuela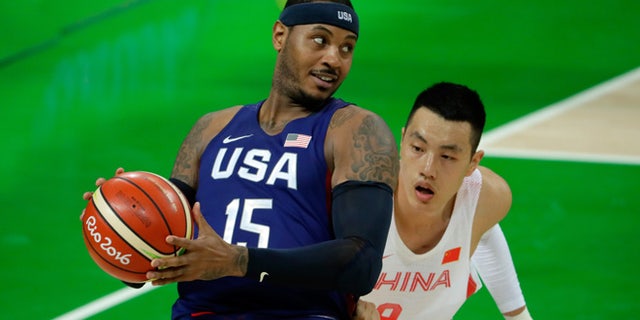 NEWYou can now listen to Fox News articles!
Coming off a 119-62 rout of China on Saturday, Carmelo Anthony and the rest of United States men's basketball team hopes to put on an even more dominant show Monday evening when this year's version of the "Dream Team" takes on Venezuela in Rio de Janeiro.
The two squads recently matched-up in a pre-Olympic exhibition game, where the U.S. – while still putting on a commanding performance – played their sloppiest ball of the five-contest set. While they won 80-45, it was the least amount of points the U.S. team had scored in their exhibition matches and the squad's shooting was way off, as the NBA stars consistently missed open shot after open shot.
Given the slack performance last time the two teams matched-up and Team USA's stellar form against China over the weekend, one should expect to see a more put together team when they take to the hardwood in Carioca Arena Monday evening.
"If we keep playing hard and keep sharing the ball, I think we're going to get better," USA coach Mike Krzyzewski said, following the match with China. The win on Saturday handed Krzyzewski, who is revered coach of Duke University, an Olympic coaching record of 17-0.
Of the all NBA-squad at the Olympics, only Anthony and Kevin Durant – now of the Golden State Warriors – have previously played in the Olympics. Durant, who scored 25 during the match against China, looks to surpass his American scoring record of 156 points in one Olympics.
Anthony, who only scored nine points, hopes to finish his time in Rio as the USA's all-time leading Olympic scorer. The New York Knick has (239) points in his Olympic career and trails Michael Jordan (256), David Robinson (270) and LeBron James (273) on the all-time list.
"Carmelo has four Olympics of experience," Krzyzewski said. "I'm proud of him. He's been a selfless leader and the guys respect Carmelo."
Venezuela should not pose too much of a threat to the U.S., as the squad features no NBA players – Venezuelan Greivis Vasquez withdrawal from the team to focus on his health after signing with the Brooklyn Nets in the offseason – and has little experience in the pro leagues around the globe. The team is expected to rely heavily on shooting guard Gregory Vargas, who plays in France's top pro league.
"To me, their key is Gregory Vargas, a 5-11 PG who has won eight titles in 13 pro seasons mostly recently in Israel and plans to play in the French Pro A next season," analyst Fran Fraschilla told USA Today. "He's the heart and soul of the team."
Venezuela is coming off an opening game loss against Serbia, where they shot just 37 percent from the field and made just 4-of-22 from 3-point range.