Richard Sherman opens up about relationship with Russell Wilson: Its fantastic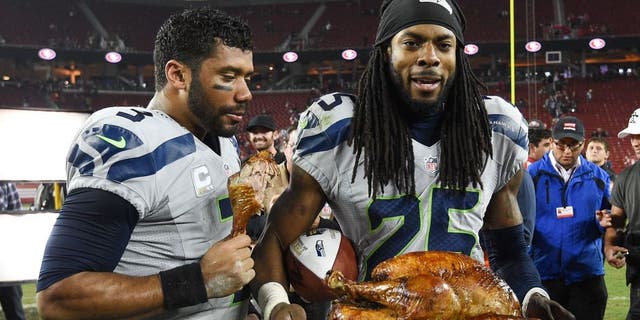 NEWYou can now listen to Fox News articles!
Despite making the playoffs in each of the last five years, reaching the Super Bowl twice and fielding one of the best teams in the NFL, the Seattle Seahawks have come under some scrutiny this offseason. The main source of that controversy came from a story suggesting theres a feud between the offense and defense, namely between the teams best defensive players and Russell Wilson.
Richard Sherman was the focal point of that criticism as a result of his reported outburst in practice where he told Wilson You [expletive] suck. That would seem to throw a wrench into any sort of relationship the two had, but thats not the case. Sherman debunked any notion that he and Wilson dont get along, saying their relationship is great.
"It's fantastic," Sherman said after practice Wednesday. "We're teammates. It's like a family. It's like everyone else in a family. We fight for one another, just like I'm fighting for the other 52 guys out there; I'm fighting for him, and he's fighting for us. We have a great appreciation for how tough our quarterback is and what he has played through. Last year, he played through a number of injuries, and he's not doing that just because, 'Ah man, I've got to go out there and it's a job.' But he's doing that for the guys next to him, and we appreciate that, and we think he is a great quarterback."
One of the main reasons there seemed to be a rift between the defense and Wilson is because of the apparent idea that the quarterback gets treated differently by Pete Carroll. While Sherman didnt deny that notion, he did say its that way on just about every team in the NFL.
You could literally say that about any team, about any quarterback, Sherman said. The Patriots probably think Tom Brady gets treated better than everybody else. You could make this a legitimate story, this exact same story, about any of the teams that were in the playoffs last year, and even a couple that werent in the playoffs. Any of the competitive teams that have a great offense and great defense.
Sherman is an outspoken player whos never been afraid to express his opinion, and a couple times last year, that got him into a bit of trouble. He had a sideline outburst, yelled at coaches for their play calling and even threatened to end a reporters career.
It wasnt a good look for the All-Pro cornerback, and even he admits he may have gone too far on a few occasions.
AP/Copyright The Associated Press. All rights reserved.
At times it might have gotten kind of overblown, I might have gone over the top, he said. But [Carroll] understood where it was coming from, and so did my teammates. So like I said before, it's just the competitiveness it's just a competitive team.
In addition to denying rumors about tension with Wilson and Carroll, Sherman wanted to clear one thing up: He never asked for a trade. That report simply wasnt true, according to Sherman, and the cornerback would like to retire a member of the Seahawks.
I would definitely like to retire a Seahawk and finish my career here, he said. We started something special, and I think it would be best to end something special here.