Regan Smith replaces 'surprised' Alex Bowman in Sprint Cup Series ride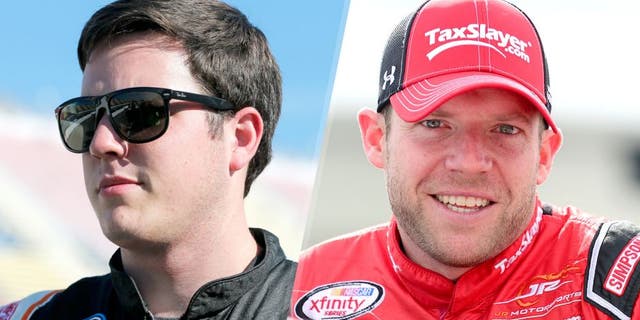 A day after it was revealed that Alex Bowman is out at Tommy Baldwin Racing, the NASCAR world found out who's in.
TBR announced Friday that veteran Regan Smith, a XFINITY Series driver for JR Motorsports the past three seasons, has replaced Bowman as the driver of TBR's No. 7 Chevrolet for the upcoming Sprint Cup Series season.

As previously announced, Toy State and its Nikko RC and Road Rippers brands will be the car's majority sponsor for 2016.
"This is a really great time for us," team owner Tommy Baldwin said in a team release. "Having a driver with Regan's credentials further elevates our program. He's a seasoned driver and a proven race winner. We're really looking forward to 2016."
Smith, a former full-time Sprint Cup driver who notched his only Cup win at Darlington in 2011 while driving for Furniture Row Racing, has been looking for work since JR Motorsports announced it was bringing Elliott Sadler -- and Sadler's longtime primary sponsor, OneMain Financial -- on board for the 2016 season.
"This has been a crazy few days, but I'm really excited that we were able to put this together," Smith said of his appointment to TBR. "I have a ton of respect for Tommy and what he's built there. It's going to be a lot of fun."
Bowman, whose option to remain with TBR had been extended late last year, was surprised to learn of his release. And the 22-year-old driver was especially surprised at how he learned of it.

"To be honest with you there hasn't been a conversation with Tommy," Bowman said during an interview Friday with SiriusXM NASCAR Radio. "I was as surprised as all you guys were. I talked to Tommy on Monday and everything was good. I talked to him late Wednesday night and everything was good. I went to the gym yesterday (Thursday) morning and was on the way to the shop to go work on my midget (car), and I refreshed Twitter and Twitter says I'm fired. So I don't know. I guess you'll have that in big-time auto racing.
"It's unfortunate that it worked out that way, but I'm really appreciative of everything that TBR did for me, and Tommy and everybody were like a big family family to me for a little over a year now."
As already announced, Bowman will run a limited XFINITY Series schedule for JR Motorsports -- Smith's old team -- in 2016.

"I'm just really looking forward to my nine races with JR Motorsports and doing what I moved to North Carolina to do, which is to focus on winning races," Bowman, a Tucson, Arizona native, said on SiriusXM. "That's the most important thing to me right now."
TBR, meanwhile, issued the following statement on Friday afternoon seeking to clarify why Bowman learned of his dismissal in the way he did:
"The business of NASCAR is no different than any other professional sport. There are a lot of moving parts and pieces behind the scenes that fans and media don't see. Decisions are made carefully over a period of time and are influenced by many factors.
"As the competition and business models change in NASCAR, it's the responsibility of teams to make decisions accordingly. We felt that we needed to make some changes, and the driver was one of them.
"The circumstances surrounding Alex's release via social media was unfortunate and certainly unintentional. The culture of doing business in motorsports has become more complex and involves many parties such as agents, business managers, attorneys and sponsors. A comment in passing may be overheard and subsequently conveyed to the media.
"Our intention, as it always is, was to follow business protocol and notify Alex and his management of our decision. Again, it's unfortunate that confidentiality was compromised, and the news delivered in this manner.
"Alex Bowman is a talented, young race car driver. He has a good future ahead of him. We appreciate his time with us and wish him well."