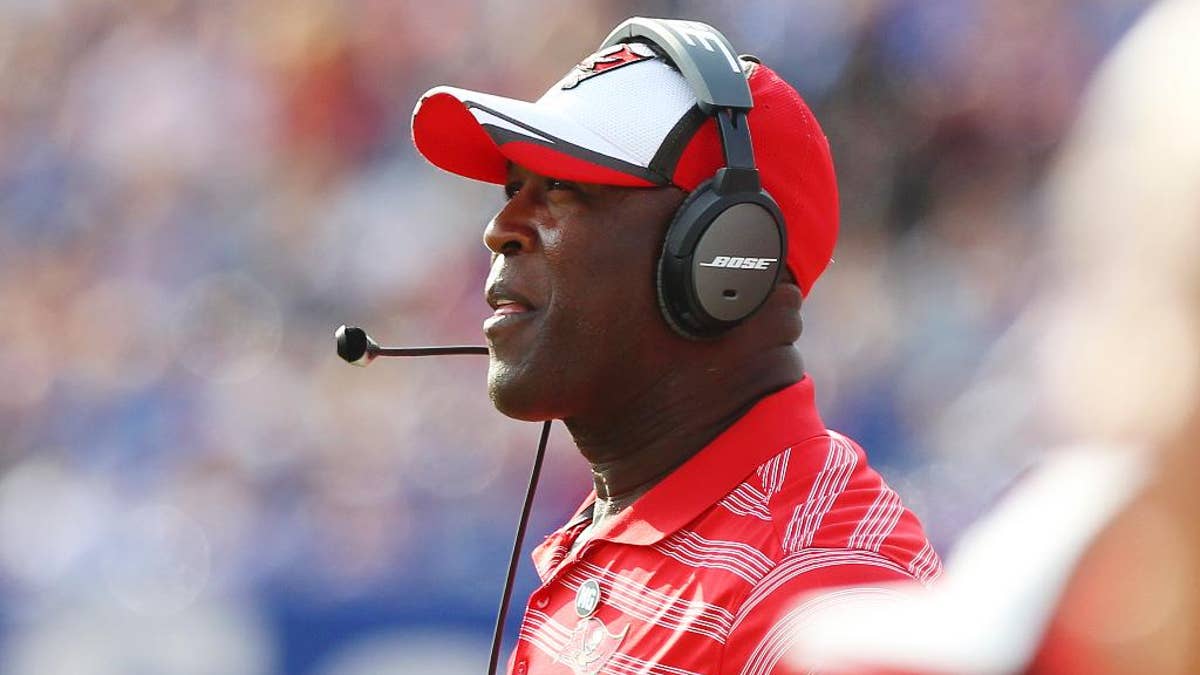 TAMPA, Fla. – Gerald McCoy's preseason is pretty much over.
Like most of the starters for the Tampa Bay Buccaneers and Washington Redskins, the two-time Pro Bowl defensive tackle will play little — if any — Thursday night in a final tuneup for the regular season.
McCoy is entering the final year of the contract he signed as the third overall pick in the 2010 NFL draft, And if training camp and the Bucs' first three preseason games are any indication, he's poised to make a splash in an improved defense that Lovie Smith is counting on to help transform the Bucs into winners.
Not that the fifth-year pro is making any predictions about the team's first season under Smith. The Bucs went 4-12 in 2013, missing missed the playoffs for the sixth consecutive season.
"I can't predict the future, but I'll tell you we have a team that day-in and day-out is coming out and putting in a lot of work to go from worst to first," McCoy said. "We've got a 'why not us?' mentality. We're just going to keep that mentality and keep going to work."
The Redskins are taking a similar approach in their first training camp under coach Jay Gruden, who inherited a team that won the NFC East two years ago before regressing in 2013.
Washington's offense has struggled this preseason, raising questions about whether Robert Griffin III or Kirk Cousins should be the starting quarterback.
The defense is reeling a bit, too, with safety Brandon Meriweather suspended for the first two games of the regular season for a hit last week on Baltimore receiver Torrey Smith.
Gruden initially waffled on whether his regulars on offense, including Griffin, would play against the Buccaneers. The rookie coach decided against it, meaning Cousins will start Thursday and Griffin's preseason ended with a sloppy performance in which he was 5 of 8 passing for 20 yards, no touchdowns, an interception and three sacks vs. the Ravens.
"I think it would be beneficial in some ways, but I don't think it's mandatory that he plays," Gruden said on Monday. "I don't think it's going to make or break his season whether or not he plays a quarter or a drive in a fourth preseason game."
Smith also has seen enough of McCoy, who's been dominant during the limited stretches he's been on the field. The coach wants evaluate backups Thursday, so most of Tampa Bay's starters likely will sit the entire night.
"Some of our seconds didn't play a lot last week. ... We want to get a good look at them," Smith said.
With McCoy leading the way, the coach insists there's no limit on what the Bucs can accomplish with a roster that's been drastically overhauled since the end of last season.
The one-time Tampa Bay assistant who later had a successful nine-year run as coach of the Chicago Bears has installed a version of the Tampa 2 defensive system that was once a staple here. And Smith envisions what he already considers to be the best tackle in the league becoming an even more dominant player.
The coach said it all begins with the 26-year-old's work ethic and willingness to do anything to make himself and the team better.
"I heard coming in that he's a great player and a good leader. Now, I've seen it firsthand," Smith said.
"All of those things are true. ... No one works harder than him out there," Smith added. "As a coach, you can't coach him too hard, you can't critique or criticize him too hard. He's going to lead us to a lot of wins. ... Every team would want Gerald leading them."
McCoy is looking forward to watching some of the younger players compete for some of the final spots on the roster against the Redskins.
His only advice to them is "don't overthink it."
"In the last preseason game, you see a lot of guys make mistakes and do uncharacteristic things because they're trying to impress. You don't have to do that," McCoy said. "Just go out there and do what it take to make plays. Don't try and make them, let them come to you."
___
AP NFL website: www.pro32.ap.org and www.twitter.com/AP_NFL