Ravens' Joe Flacco accepts blame for loss to 49ers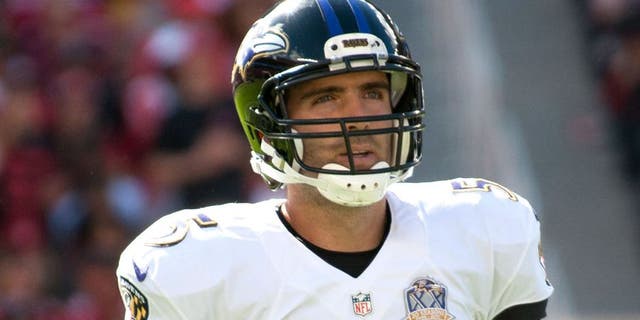 NEWYou can now listen to Fox News articles!
Ravens quarterback Joe Flacco tossed two costly interceptions in San Francisco on Sunday. Ed Szczepanski Ed Szczepanski-USA TODAY Sports
Ravens quarterback Joe Flacco was quick to point the finger for Sunday's 25-20 loss to the 49ers at himself, calling his two interceptions "stupid mistakes."
Flacco finished the day with 343 yards and two touchdowns, but his two turnovers made a big difference as San Francisco turned both into field goals. The loss dropped Baltimore to 1-5.
"There was a lot of room out there to make plays. It felt like we should've had 600 yards and put up a lot of points, but you get two stupid mistakes by myself," Flacco said via the team's official website.
The second interception really had Flacco kicking himself after the game since it likely took points off the board for the Ravens. It killed a drive in San Francisco territory and came on a play where Flacco was just trying blindly trying to throw the ball away.
"I pulled up and was trying to buy time and make a play, and it got to the point where I didn't see anyone open, so I was just trying to throw the ball away," Flacco said. "I didn't think anyone was on that side of the field. I didn't even look. I was just trying to throw the ball away, and it was obviously a really, really dumb throw."
Flacco now has seven interceptions in six games this season. Whether he's been trying to do too much due to the Ravens' lack of playmakers or just making bad decisions, Flacco doesn't have much time right the ship from a disappointing start.
"It's not good when you don't win football games. It doesn't feel good," Flacco said. "It's frustrating, but we just know that we have to get better. That's all we can do, is put our head down and continue to try to win a football game."