Rams' Fisher sticking by Foles despite another listless performance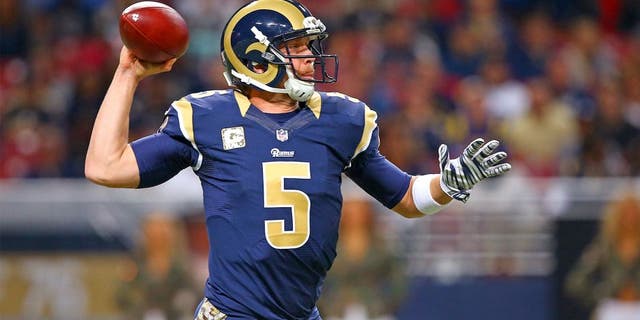 Rams quarterback Nick Foles has thrown only one touchdown pass in four games. Billy Hurst USA TODAY Sports
Despite another sub-par effort by Nick Foles, St. Louis Rams coach Jeff Fisher said he has no plans to change quarterbacks.
Foles barely ended a streak of seven consecutive games with under 200 yards passing, reaching 200 on 17-of-36 passing with zero touchdowns and an interception before he was pulled in favor of Case Keenum. Still, Fisher said there's no thought to making a permanent switch.
"He was prepared, he had a great practice this week," Fisher said of Foles. "I'll look at it, but at this point, no."
Foles, who was acquired in exchange for Sam Bradford in the offseason, has thrown for only seven touchdown passes on the season - three of which came in one game. St. Louis entered the contest averaging a league-worst 177.1 passing yards per game.
Ironically, the Rams scored on their opening drive of the game for only the second time this season, easily moving 80 yards in only seven plays. An offensive holding penalty on Greg Robinson midway through the first quarter wiped out a 17-yard touchdown on an end-around by Tavon Austin and the offense did next-to-nothing the rest of the way.
"We're not winning, so I have to keep working to get better, working to make sure offensively we get rolling," Foles said. "We as an offense just have to continue to keep improving."
Rookie Todd Gurley, who rushed for a touchdown for the fourth consecutive game, was limited to 45 yards on 12 carries - his lowest totals since he rushed for nine yards on six attempts in his NFL debut.
Fisher was so desperate for an offensive spark that, with his team trailed 27-13 with just over 10 minutes left in the game, he attempted an unsuccessful fake punt at his own 23-yard line. The Bears turned that into a Robbie Gould field goal and a 17-point edge with 8:05 to play.
"That's on me, I'm trying to win the game," Fisher said of the gamble. "Sometimes they work, sometimes they dont, but that's our personality."