Rams' Fisher on RB Gurley: 'It's doubtful that he plays Sunday'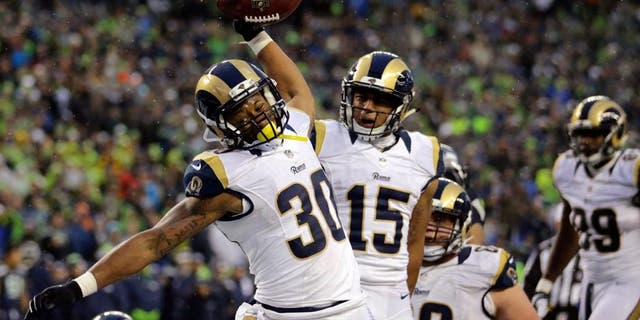 NAPA, Calif. -- St. Louis Rams rookie running back Todd Gurley missed his third straight practice because of a right foot injury and is likely to be held out of the Rams' final regular-season game.
The 10th overall pick in the 2015 draft, Gurley has spent the past week getting treatment on his foot after being hurt late in the second half of St. Louis' win over Seattle.
Gurley, who also missed the first two games of the season recovering from an ACL injury in college, has improved, but coach Jeff Fisher said he doesn't want to risk making the injury worse. Gurley was listed as doubtful on the injury report.
"We're thinking about the long-term future," Fisher said Friday. "He's got an issue he's dealing with and we're still doing tests. The difference between him playing and making things worse could be the difference between 6-8 weeks of rehab during the offseason. Right now we got really good news and good results, but it's doubtful that he plays Sunday."
Despite playing in only 13 games, Gurley is third in the NFL with 1,106 yards rushing and has 10 touchdowns. It's the most rushing yards by a Rams rookie since Jerome Bettis ran for 1,429 in 1993. Gurley had four straight 100-yard games beginning in October and five overall.
That's made Gurley a leading candidate for rookie of the year, although the 21-year-old is all but certain to watch St. Louis' game at San Francisco on Sunday from the sideline.
"I just don't want to set it back anymore," Fisher said. "It just makes sense for the organization, the future of the organization. It's rest for a couple of weeks and he'll be fine."
Tre Mason, the Rams third-round draft pick in 2014, will start if Gurley is held out. Mason has only 57 carries for 163 yards this season and hasn't had more than six rushing attempts in one game since Nov. 1.
"It's a blessing to be able to start again, but I wish TG was out there with me to give us some more power," Mason said. "I'm willing to take on the role. Whatever's going to put my team first, you have to do it."
St. Louis wrapped up its final practice in Northern California after working out a deal with the Oakland Raiders to use their training camp facilities in the heart of wine country. Fisher was pleased with how his players and staff handled the situation, which forced most to be away from their families on New Year's Eve.
"We've had great work and the weather the last two days has been perfect," Fisher said. "Our setup, the meeting space ... everything has been great."
The Rams placed defensive tackles Nick Fairley and Doug Worthington on injured reserve. Running back Malcolm Brown and wide receiver Nick Toon were promoted from the practice squad, and cornerback Troy Hill was claimed off waivers from New England.