Rafael Nadal Wins Opening Round in Australian Open, On Course for "Rafa Slam"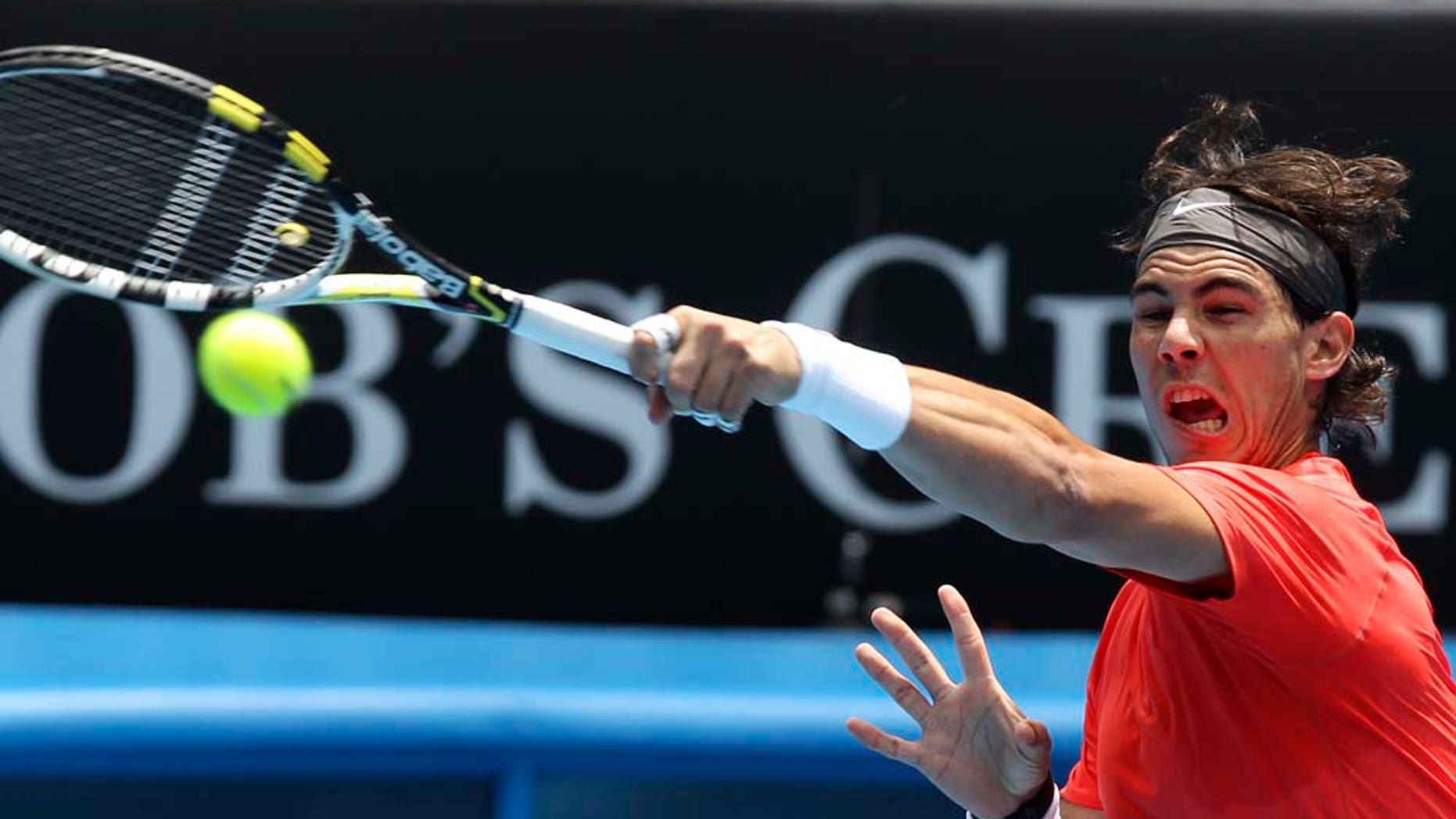 Rafael Nadal took the first step toward completing his own version of a Grand Slam.
The Spaniard opened the Australian Open without losing a game, leading Marcos Daniel 6-0, 5-0 before Daniel's knee gave out. He is trying to win his fourth major title in a row – his own type of Grand Slam, the "Rafa Slam."
Daniel became the first victim on Nadal's quest. Daniel seemed to be in awe of Nadal, Roger Federer and some of the other top players in the world.
"If you see all the top five guys, they improve so much," said Daniel, who has also lost to Federer. "They are one step forward, faster than the others, they hit the ball harder than the others, they can stay very focused for four hours, different than the others. Imagine Federer and Nadal, they are the same."
Nadal's limited court time should hold him in good stead for the rest of the tournament, but he wasn't counting his blessings as the result of another player's misfortune.
"I am a professional and I try my best on every point," Nadal said, explaining why he didn't hold back in the match. "That's the best thing, to respect the opponent in that situation. If you do something and you let him win a game, it is worse."
Nadal will play American qualifier Ryan Sweeting, who beat Daniel Gimeno 6-4, 6-4, 6-1.
Another of those top five that Daniel mentioned was Andy Murray, the 2010 finalist who also advanced when Karol Beck retired with a shoulder injury in the third set of their first-round match. The fifth-seeded Murray, who was leading 6-3, 6-1, 4-2, was the only man to beat Nadal in a Grand Slam tournament last year, the quarterfinals at Melbourne Park.
"You'd rather finish the match off without your opponent being hurt," Murray said, "but it does happen quite a lot. So you just have to move on and get yourself ready for the next round."
Fourth-seeded Robin Soderling had to go the distance but was rarely challenged, completing a 6-4, 6-2, 6-2 win over Potito Starace of Italy. Australian wild card Bernard Tomic advanced to the second round with a 6-3, 6-2, 7-6 (5) win over Jeremy Chardy of France, and could meet Nadal in the third round if both win.
Based on reporting by the Associated Press.
Follow us on twitter.com/foxnewslatino
Like us at facebook.com/foxnewslatino