Rafael Nadal: I Am Done With Tennis Politics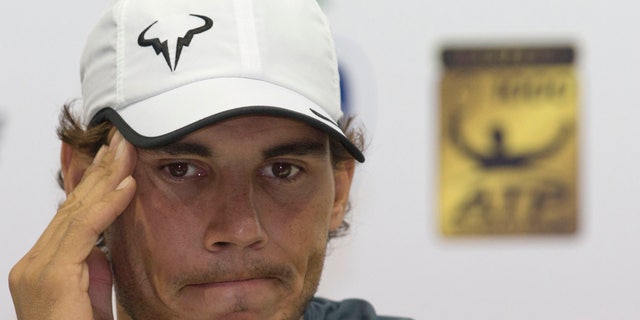 SHANGHAI – Rafael Nadal says his belief that too many tournaments are played on hard courts hasn't changed with his success on the surface this year — he's simply given up trying to change the system.
The Spaniard, who retook the No. 1 ranking from Novak Djokovic this week, has compiled a 27-1 record on hard courts this year, including capturing his second U.S. Open crown and three Masters titles.
His success on the surface has been the most surprising part of his comeback from a seven-month layoff due to a left knee injury, which many believed would limit his action on hard courts.
Nadal said Tuesday before the Shanghai Masters tournament he still believes too many tournaments are played on the surface, but he's done trying to influence ATP policymakers.
"I am really out of politics, and I don't want to be involved in politics of the tennis anymore. I know even if you have strong ideas and even if you believe the changes are possible, I know there is always a wall there that is impossible to go over," he said.
The 13-time Grand Slam winner has long advocated a shorter tournament schedule and more tournaments on clay courts to lessen the wear on players' bodies and prevent career-threatening injuries like the kind with his knees he's struggled with in recent years.
"I say because it's something that I think is going to be fair for the next generations if they are able to play (on) an easier surface for the body, to try to have a longer career, to try to be more healthy when they finish (their) careers," he said. "Something that probably I will not (be lucky enough to have)."
Djokovic said later he shares Nadal's frustrations with the slow pace of change at the top of the sport.
"It's been over five years that we all have been trying in different ways to effect some things regarding the schedule, tournaments, different formats," he said. "But the system is rooted inside. It's very difficult to change.
"I understand why Rafa is saying that he has had enough of it because at the end of the day you can't do everything alone. It's much deeper than that."
Nadal and Andy Murray have been the most outspoken critics of tour conditions in recent years, with Murray even floating the idea of a player strike two years ago if tour organizers didn't take their complaints seriously.
Nadal then criticized Roger Federer on the eve of last year's Australian Open for allowing other players to lead the charge to make changes to the tour while he stayed above the fray to maintain his good reputation.
Now it appears Nadal is done with the fight, as well.
"What I am saying I am saying because it's something that I feel," he said. "If somebody from the ATP asks me, I will say the same things. But as always happened, nothing gonna change."
Nadal said he's focusing instead on keeping up his momentum through the end of the season and the ATP World Tour Finals in London — a time of year the Spaniard has traditionally struggled with fatigue and injuries.
He's never won the Shanghai Masters. In the last seven years, Nadal has won only one tournament following the U.S. Open — in Tokyo in 2010.
"I know in the past this part of the season was hard for me, but I am confident that I can keep playing well. I am doing the right things to be ready."
Follow us on twitter.com/foxnewslatino
Like us at facebook.com/foxnewslatino