PSU's Christian Hackenberg is turning pro, & here's who will train him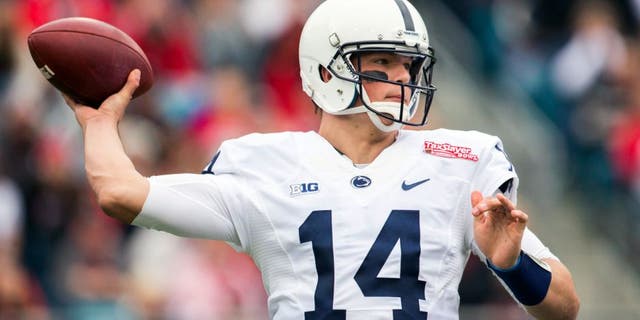 Penn State QB Christian Hackenberg announced after the TaxSlayer Bowl that he will skip his senior season to enter the NFL Draft. The strong-armed junior is scheduled to begin his NFL training with former NFL QB Jordan Palmer in Southern California starting Tuesday, a source told FOX Sports.
Palmer, the younger brother of NFL star Carson Palmer, groomed former UCF star Blake Bortles on the field -- and in the classroom -- for months leading up to the 2014 NFL Draft when he was selected No. 3 overall.
The 6-foot-4, 235-pound Hackenberg finished his PSU career with 48 touchdown passes and 31 interceptions. The former blue-chip recruit was integral in helping keep the Penn State program afloat emotionally as it coped with the fallout from the Jerry Sandusky scandal.
"I can't undersell how huge (former PSU head coach) Bill O'Brien was to this whole thing," said Penn State great Matt Millen when asked about Hackenberg earlier this year. "Christian committed to Bill. He didn't know anything about Penn State. The part that he committed to, was after Bill left, and that was a big decision because he really could've done anything. So I got a lot of respect for the kid because he's got a lot of on his shoulders. He's the face of the program. Everybody tied their wagon to him. Last year, he had to shoulder the wagon when things didn't go right, when receivers went the wrong way, when protections were awful. You had a clash of two systems. He's trying to learn one and put it in the other's terms. There was a lot to do. I think what Christian's done is really amazing actually.
"The focus that he had and his ability to stay steadfast with what he had to do when things didn't go very well, that speaks to the kid. On top of his arm strength to make all the throws, and his ability to see the field, and being a smart kid, he's really got good focus and he's got some good character and that really puts him high on the list.
"The numbers are irrelevant and the wins are really irrelevant. It's how he did it, and how he's doing it. That's way more important."
Bruce Feldman is a senior college football reporter and columnist for FOXSports.com and FS1. He is also a New York Times best-selling author. His new book, "The QB: The Making of Modern Quarterbacks," came out in October 2014. Follow him on Twitter @BruceFeldmanCFB and Facebook.