Pro Bowlers are having the best time in sumo suits, and it's absolutely hilarious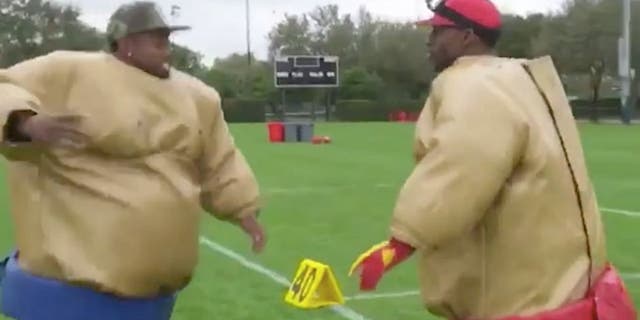 The Pro Bowl is meant to be a free vacation for players, where they can get away and have some fun with their fellow NFL stars. That's certainly been the case this week. Whether it's Ezekiel Elliott playing quarterback in practice or the NFC squad dominating the AFC in dodgeball during the skills competition, everyone in Orlando seems to be enjoying themselves.
One thing stole the show, though: sumo suits.
Players are having the best time wearing the enlarged costumes, and it's absolutely hilarious to watch. Here's Odell Beckham Jr. fielding a punt in a sumo wrestler suit before juking Marquette King on his return.
Jarvis Landry also raced Richie Incognito while wearing the costume, and he nearly beat the Bills guard. In fact, it's so close that we can't say definitively who won.
King played defense on Emmanuel Sanders and picked off a pass intended for the Broncos receiver. They celebrated with a new kind of chest bump.
If there's one thing we can take from these fantastic videos, it's that the NFL should seriously consider making every player wear a sumo suit at the Pro Bowl.