Pittsburgh Penguins honor victims of synagogue shooting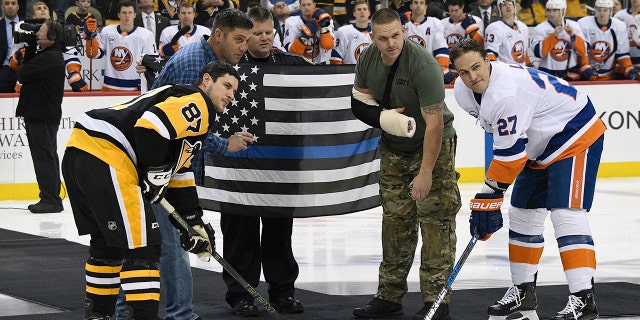 The Pittsburgh Penguins on Tuesday held a ceremony to honor the victims of Sunday's deadly attack in the city, including an 11-second moment of silence to honor the eight men and three women killed in the assault on the Tree of Life synagogue.
"We wanted to go out there and play for them," Penguins star Sidney Crosby said. "You try to recognize that and play as hard as you can to show your appreciation. Words are one thing, but you try to go out there and follow it up the same."
Penguins players wore a "Stronger than Hate" patch on their sweaters. The patch was a mashup of the team logo and the Star of David. The Penguins' opponent, the New York Islanders, wore a similar decal on their helmets.
A ceremonial drop of the puck featured Pittsburgh police Chief Scott Schubert along with Anthony Burke and Mike Smigda, two of the four officers who were wounded in the attack. A Blue Lives Matter flag was held up during the pre-game ceremony.
The Associated Press contributed to this report.