Pirates' Gift Ngoepe, MLB's first-ever African-born player, got a hit in his first career at-bat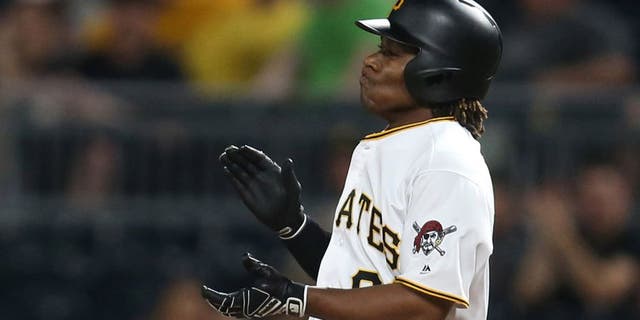 NEWYou can now listen to Fox News articles!
Gift Ngoepe made history Wednesday night as he became the first-ever African-born player in MLB.
The Pirates shortstop made the most of his major-league debut, notching a hit in his first career at-bat and a walk in Pittsburgh's 6-5 victory over the Chicago Cubs.
Ngoepe, a 27-year-old native of South Africa, was called up from Triple-A Indianapolis on Wednesday, making him the first player from the entire continent of Africa to reach the majors. Ngoepe was unsure if he'd even play in his first day on the Pirates' big league roster, but manager Clint Hurdle pulled a double switch in the fourth inning, bringing Ngoepe off the bench to play second base.
Ngoepe said it was difficult to keep his composure when he entered the game, according to ESPN:
"I told myself not to cry because I'm in the big leagues and I'm a big guy," Ngoepe said. "(Francisco) Cervelli hugged me and I could feel my heartbeat through my chest. It was emotional, and I had to fight back the tears."
Added Hurdle: "Jordy (Mercer) just kept telling everybody, 'He's representing 1.62 billion people. He's one of them, 1.62 billion.' Everybody was pulling for him."
Ngoepe's hit, a single to center, came off of Cubs ace Jon Lester in the top of the fourth.
Not only did Ngoepe do his part at the plate, he had a solid showing defensively as well, helping turn the game-ending double play.
"It was just awesome," Ngoepe said of his historic night. "I don't know what other word to use. It was just awesome."