Photographers storm out of Tom Brady event: 'He's not George Clooney'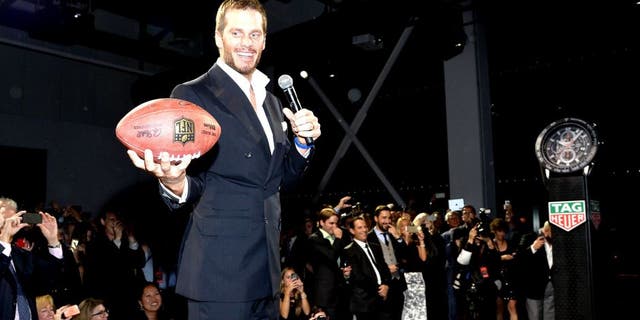 NEWYou can now listen to Fox News articles!
A group of photographers weren't happy about Tom Brady being late to his event. Mike Coppola Getty Images
Following the New England Patriots' 30-6 win over the Dallas Cowboys on Sunday, Tom Brady made a pit stop in New York. Surprisingly, it wasn't to scout the New York Jets a week early. Instead, he was the star of a TAG Heuer event to launch a $5,450 watch on Tuesday night. Sadly, it didn't go as planned.
According to Page Six, 11 photographers stormed out before Brady made an appearance. They were unhappy about being forced to wait after Brady was "an hour late." And to make matters worse, the photographers were scolded for eating hors d'oeuvres that were weren't supposed to be offered to them.
"They were like, 'The food is not for you, don't eat the food!'" one photographer said, according to Page Six's source. "For two hours we were forced to remain stacked on a 2-foot riser that several people fell off."
Brady obviously wasn't a hit among these photographers, and it's mainly because he's a "sports guy" and not an actor. Some even went as far as comparing him to Shia LeBeouf, who's had his share of chaotic run-ins with the paparazzi.
"He's a sports guy," a photographer said. "You think there's people in France talking about Tom Brady? He's not George Clooney. He doesn't have an acting career. He's not even Shia LaBeouf. ... If you want to see him, flip to your sports section -- he's there throwing footballs."
Brady probably wasn't thrilled about being stood up by the photographers, but he's got more important things to worry about -- like winning a fifth Super Bowl.
MORE NEWS: Want stories delivered to you? Sign up for our NFL newsletters.