Philadelphia expects 2 million fans for Eagles victory parade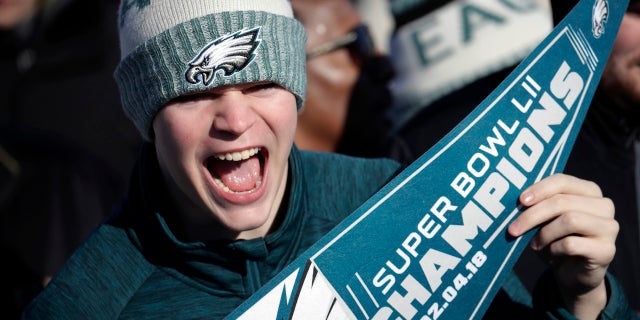 NEWYou can now listen to Fox News articles!
Philadelphia will all but shut down Thursday while the city basks in the glory of its first-ever Super Bowl parade that's expected to draw as many as 2 million people.
Schools, universities, government offices and even the Philadelphia Zoo will close to revel in Sunday's Eagles' victory over the New England Patriots, capping a remarkable season that many presumed to be over after starting quarterback Carson Wentz suffered an injury late in the year.
With most of the city focused on the parade, others will need to exercise a little patience as they try to get around town, Mayor Jim Kenney told Philadelphia's Fox 29.
"Just as we waited decades for this [victory parade] — expect it will take you much longer than usual to get around," the mayor said.
Tourist attractions like the Liberty Bell and Independence Hall will still be open to visitors.
The 5-mile parade course will start in South Philadelphia, near Lincoln Financial Field, the team's stadium, move north on Broad Street toward City Hall, then turn left toward the iconic steps of the Philadelphia Museum of Art.
Record crowd expected
Organizers said the expected crowd of more than 2 million will be quite more than the roughly 750,000 people estimated to have attended the Phillies' parade after they won baseball's World Series in 2008.
Law enforcement says it has learned from past events, such as the Phillies' parade and Pope Francis' visit in 2015, to help ensure Thursday's celebration runs smoothly.
"This city works as a team," Police Commissioner Richard Ross said this week, the Philadelphia Inquirer reported. "And this is why we always have success with this."
Ross said the parade environment will be much different than what occurred Sunday night in Philadelphia, when thousands of fans rushed into the streets to celebrate after watching the Eagles' victory on television from Minneapolis.
"It's not like an open celebration where people are just occupying the streets," Ross told the paper. "This is a different dynamic."
People will be behind barricades, making it easier for law enforcement to maneuver, with the crowd more likely to be families -- as opposed to the twentysomethings, many of them intoxicated, who poured out from bars and stormed the streets following Philadelphia's underdog win.
Mayor Kenney underscored the importance of maintaining order for Thursday's events, and said at a news conference Wednesday that vandalism and property destruction -- which was the case Sunday night – would not be tolerated on parade day, the Inquirer reported.
"You will be arrested if you try that," he said. "The key is people need to behave."
Arrests from Sunday's mayhem
Authorities also announced Wednesday that eight people were arrested in connection with Sunday's chaos.
Among those arrested was 20-year-old John Rigsby, son of longtime Villanova University basketball broadcaster Whitey Rigsby, for allegedly flipping over a car, the paper reported. Other people who were taken into custody were accused of various acts of violence and vandalism, the paper reported.
It appears Philly fans didn't just lose control in their hometown. A fan celebrating in Minneapolis has agreed to pay about $125 to replace a seat he allegedly stole from U.S. Bank Stadium following the Super Bowl win.
Meanwhile, with Bud Light offering free beer at two dozen bars along the parade route, and a local brewery saying it will offer fans a free Philly Pale Ale on parade day, another rowdy scene could be in the making.
The Associated Press contributed to this report.