Phil Jackson says Knicks are open to Kristaps Porzingis trades: 'We know what we're doing'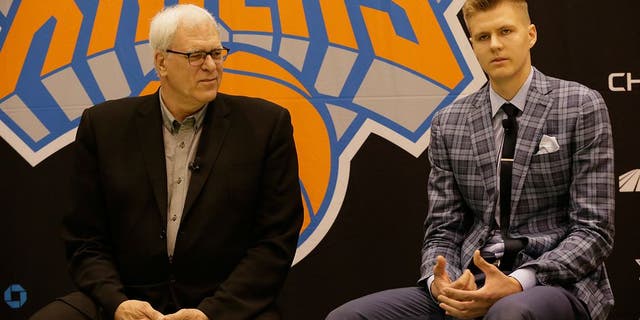 NEWYou can now listen to Fox News articles!
Phil Jackson and Kristaps Porzingis haven't seen eye-to-eye lately.
The young New York Knicks big man skipped his exit interview when the team's season came to a close, and reports on Tuesday indicated the team was listening to potential trade offers for the former No. 4 overall pick.
On Wednesday evening, Jackson removed any doubt about New York's intentions. In a televised interview on the MSG Network, the Knicks president of basketball operations acknowledged he is open to offers for Porzingis.
"As much as we love this guy, we have to do what's best for the club," Jackson told MSG's Al Trautwig before doubling down on his beliefit might be time for Carmelo Anthony to waive his no-trade clause, as well.
Jackson followed up those two bombshells by trying to reassure Knicks fans. When asked what message he would deliver to the New York faithful, Jackson responded, "I think we know what we're doing."
Jackson emphasized how surprised he was by Porzingis' decision to skip his exit interview this season, saying "I don't think I've ever had a player, over 25 years of coaching, maybe 30, not come to an exit meeting. It's not happened to me."
Although Jackson told Trautwig the Knicks are fielding offers for Porzingis, Yahoo's Adrian Wojnarowski reports New York is in fact making calls about potential trades and not just listening to offers from other teams. According to Wojnarowski, the Knicks are looking for a top-four pick in this year's draft, likely to select Kansas' Josh Jackson, plus an established starter if they're going to move Porzingis.
Perhaps Jackson has his reasons for his willingness to trade Porzingis, butwe should point out his memory is a bit faulty here. Back in 2003, Shaquille O'Neal skipped his exit interview with the Lakers, meaning at least one player in Jackson's history has pulled the same kind of move Porzingis did this year.