Person familiar with defense tells AP: Browns WR Josh Gordon to blame second-hand smoke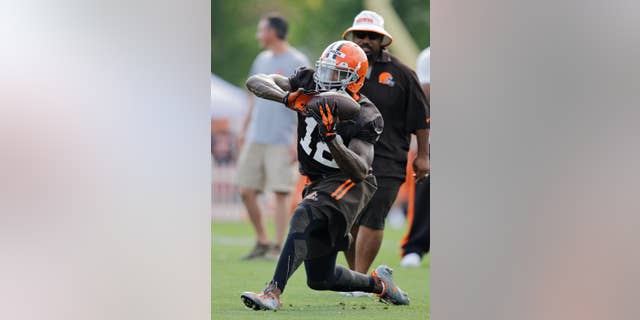 BEREA, Ohio – Josh Gordon has a new, high-profile teammate to help him fight the NFL.
Facing an indefinite suspension for marijuana use, Cleveland's talented wide receiver has hired attorney Maurice Suh to represent him at his appeal hearing with the league this week, a person familiar with the decision told The Associated Press. Suh, who helped Seahawks cornerback Richard Sherman win an appeal for a suspension in 2012, will be with Gordon in New York on Friday, according to the person who spoke to The Associated Press on Tuesday on condition of anonymity because of the sensitive nature of the talks.
ESPN first reported Suh's hiring.
Gordon is facing an indefinite ban under the league's substance abuse policy. While he awaits his hearing, the Pro Bowler has been at training camp with the Browns. He has declined interview requests.
Suh helped Sherman win his appeal of a substance abuse violation on the grounds of a faulty test.
According to the person who spoke to the AP, Gordon will contend failed test results were caused by secondhand marijuana smoke. Gordon's attorney also is expected to point out that Gordon only tested positive once despite being tested over 70 times, and even then two samples taken did not match.
ESPN and profootballtalk.com were first to report Gordon's plans to clear his name.
Gordon, who failed at least three drug tests in college for marijuana, was suspended for two games last season for what he claimed was for a prescribed cough medicine. Despite the suspension, he still led the league in yards receiving and broke several team records. The 23-year-old reportedly checked into rehab following a recent DWI arrest in Raleigh, North Carolina.
The Browns are eager to find out if they will have Gordon at all this season.
Pro Bowl tight end Jordan Cameron said the uncertainty has weighed on Gordon as he waits to learn his fate.
"He's trying to be positive," Cameron said after Monday's practice. "It's one of those things, he doesn't know. It's up in the air right now. It's hard for him to have a say either way, so he's just grinding. He's out here every day and he's working hard and that's all you can ask of him."
If Gordon loses his appeal, he'll have to wait one year to apply to Commissioner Roger Goodell for reinstatement.
Gordon could be helped by the public outcry over the league's handling of Baltimore running back Ray Rice's case. Rice was suspended two games by Goodell for violating the league's personal conduct policy. Rice was arrested following a Feb. 15 altercation in Atlantic City, New Jersey, in which he allegedly struck then-fiancee Janay Palmer.
___
AP NFL website: www.pro32.ap.org and www.twitter.com/AP_NFL