Paul George says he plans on working out with Kobe Bryant this summer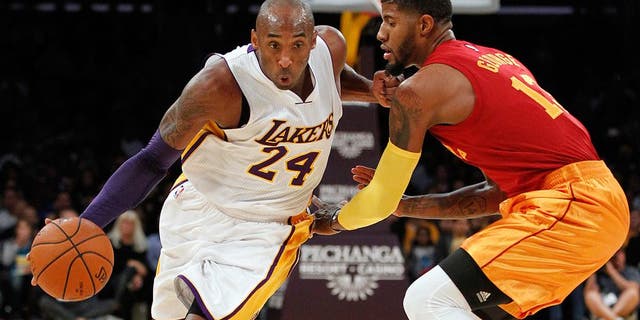 The start of free agency is still a few months away, but Los Angeles Lakers fans are already making a full-court press on Pacers All-Star Paul George. The 27-year-old L.A. native is expected to opt out of the final year of his current contract and become a free agent in 2018, when the Lakers will undoubtedly come calling.
George appeared on Jimmy Kimmel Live on Monday, and the talk show host pressed the four-time All-Star on the prospects of playing for his hometown team. During the conversation, George said hes planning on working out with Lakers icon Kobe Bryant and hopes to pick his brain.
"I'm an L.A. kid. Kobe is the biggest person in my house," George said. "Not even me."
It wont be easy for the Lakers to pry George from the Pacers, who would have the ability to offer him a five-year, $207 million extension if hes named to an All-NBA team on Thursday. The Lakers arent allowed to match the years or total value of that deal, but will the allure of playing for the Lakers be enough for him to accept a four-year max contract from Los Angeles?
Nelson Chenault-USA TODAY Sports | Nelson Chenault