Patriots' Rob Gronkowski has home burglarized during Super Bowl LII
New England Patriots tight end Rob Gronkowski suffered more than a Super Bowl loss this week, returning to his Massachusetts home Monday to find the residence had been burglarized, police said.
Foxborough Police Chief William Baker said authorities were contacted about 6:18 p.m. Monday about the crime at Gronkowski's home, which is near Gillette Stadium, about 30 miles south of Boston.
"It's kind of a tough combination to have suffered this unfortunate loss, and then to get home and be a victim of this kind of crime, which really has a profound effect on them, to be a victim of this crime when your personal space is breached like that," Baker told reporters.
Police released a portion of the 911 call, according to WCVB.
"911 (inaudible) where is your emergency?" the dispatcher said. "Hello, this, this isn't an emergency. This is just a - this is Rob Gronkowski calling and uh, while I was gone, my whole house got robbed, uh while on the Super Bowl trip and I just got back," Gronkowski replied.
The police chief wouldn't provide specific detail about what items were stolen from the home.
In audio recordings of police scanner tape, however, a responding officer is heard saying "Multiple safes, possible guns taken." Baker did not comment on the reported scanner audio.
"Out of respect for Mr. Gronkowski's privacy, and because this is an active and dynamic criminal investigation, we're not going to be releasing any information right now about what was stolen and whether any suspects exist," he said.
Boston 25 also obtained exclusive video of authorities responding to the home and Gronkowski, who briefly appeared at the front door.
A neighbor told Boston 25 News he came forward and spoke with police Tuesday morning after seeing coverage about the reported break-in.
PATRIOTS BENCHED ONE-TIME SUPER BOWL HERO MALCOLM BUTLER OVER 'PERFECT STORM OF ISSUES': REPORT
"We went past the house on Sunday, about 12:30-1 p.m., and I happened to notice the gate was ajar, which is very unusual," Tom Savino said. "You never see that gate ajar. So, as a joke, my son and I said, 'Gee, maybe we should just call the police or something.' Now I'm sort of sorry I didn't."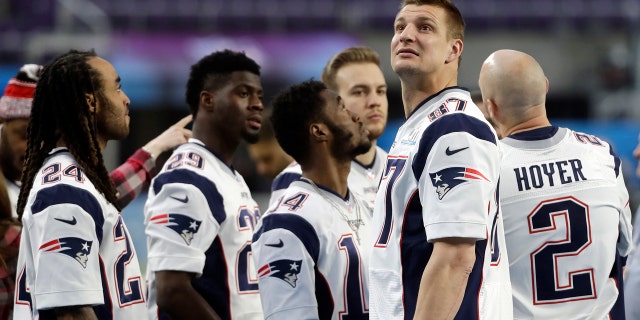 Foxborough police asked anyone with information to contact them.
Gronkowski had nine catches for 116 yards and two touchdowns in the Patriots' 41-33 loss to the Philadelphia Eagles on Sunday.
Fox News' Elizabeth Zwirz contributed to this report.