Panthers WR Stephen Hill carted off field with right leg injury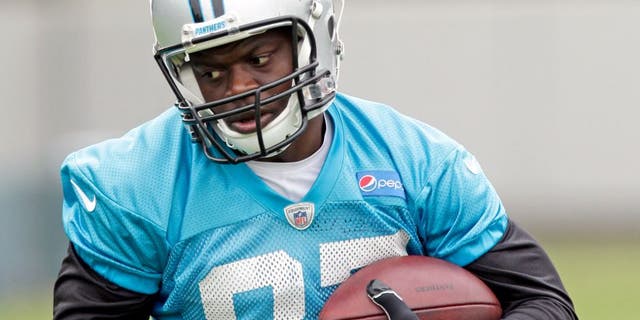 Panthers wide receiver Stephen Hill was carted off the field Saturday with a right leg injury.
Hill attempted to make a catch across the middle during an afternoon practice in intense heat, but came down wrong on his leg and fell to the ground screaming in pain.
Trainers taped Hill's knee before helping him on to a cart. Hill left the field with his head in his hands and a towel draped over his head.
Panthers assistant coach Steve Wilks said after practice he had no immediate word on the extent of the injury and didn't want to speculate.
''I saw Hill go up in the air and come down on his knee and possibly twist it a little bit, but I don't want to say anything until I have a chance to meet with (the trainers),'' said Wilks, who was filling for coach Ron Rivera.
The former New York Jets' second-round pick was battling for a roster spot in Carolina. He spent last season on the Panthers' practice squad.
It's been a rough week for Hill.
He was cited Tuesday by police in Concord, North Carolina for knowingly possessing drug paraphernalia with intent to use. Coach Ron Rivera said the arrest wouldn't affect Hill's chances of making the team.
Rivera is in Reno, Nevada attending his brother's funeral.
Wilks has run practice before for the Panthers and said it was business as usual.
''The biggest thing is we have is a great group of guys, great leadership within that locker room,'' Wilks said. ''There are guys understand the philosophy and the culture that we have created in that locker room. It was great today.''