Panthers can't slow Blackhawks' power play in third straight loss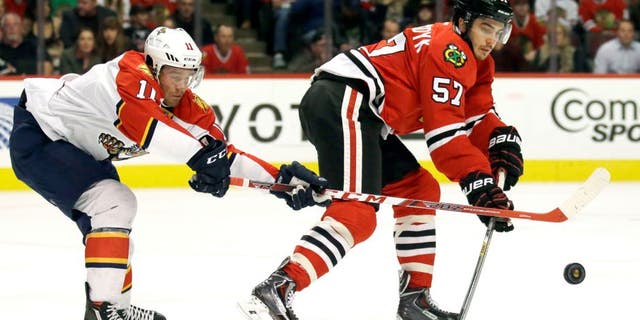 NEWYou can now listen to Fox News articles!
CHICAGO (AP) -- The Chicago Blackhawks are going to miss Duncan Keith while the star defenseman recovers from right knee surgery.
Just not so much on Thursday night, not with the Florida Panthers committing so many penalties.
Patrick Kane and Brent Seabrook each had a goal and two assists, and the Blackhawks beat the Panthers 3-2 in their first game since Keith's operation.
"I thought we played a real strong team game," Chicago coach Joel Quenneville said. "Got a lot of contributions across the board. The young guys in the back end looked fine."
Artem Anisimov also scored for the Stanley Cup champions, and Corey Crawford made 16 saves while improving to 5-1 in seven career starts against Florida.
Keith had a meniscal tear repaired on Tuesday, sidelining the two-time Norris Trophy winner for four to six weeks. It could be a huge blow for the Blackhawks, who were already thin on defense and play in one of the NHL's best divisions, but they responded with a smart, controlled performance on the first night of Keith's extended absence.
"Anytime he's not out there, it's definitely, you miss him," Seabrook said. "But, like I said, I think the guys stepped up. They did a good job. The defense did a good job of playing together."
Jaromir Jagr and Vincent Trocheck scored for Florida, which committed a season-high eight penalties in its third straight loss. Roberto Luongo made 24 saves.
"We gave them too much time on the power play," Jagr said.
Jagr's team-best fifth goal at 7:24 of the third was the 206th power-play score of his career, breaking a tie with Joe Sakic for No. 13 on the NHL list. It also moved him into a tie with Teemu Selanne for third on the career list with 588 power-play points.
"He's been great," Florida coach Gerard Gallant said. "He just keeps coming to the rink at night and gets ready for the games and prepares himself the same way every day and you know he plays well. He's playing really good hockey for us."
With Marcus Kruger and Niklas Hjalmarsson in the box for Chicago, the 43-year-old Jagr poked it in from the right side to trim Chicago's lead to 3-2. But the Blackhawks kept the action away from Crawford for most of the final part of the game.
Florida and Chicago were tied at 1 after one, but the Panthers committed five penalties in the second, and the Blackhawks took advantage on two of the power-play chances.
After Steven Kampfer was sent off for hooking, Seabrook sent a big drive past Luongo at 3:51 for his second of the season. Crawford then made a nice stop on Jagr on the other side to preserve the Blackhawks' 2-1 lead.
Trocheck was whistled for high sticking with 1:18 left in the second, and Kane drove to the net for a nifty backhand score just 17 seconds into the third. Kane leads the team with five goals and 10 points.
"We had a lot of power plays tonight. We should have had a lot more success," Kane said. "We're pretty frustrated with our power play, so to come out right after the second intermission and get one right away on the power play is huge."
NOTES: Panthers C Aleksander Barkov left with an upper-body injury after he blocked a shot in the second period. "It got him somewhere in the (right) arm or the hand or that area," Gallant said. ... It was the first time Florida committed eight or more penalties since it had nine at Vancouver on Jan. 8, according to STATS. ... Blackhawks F Marian Hossa served as an alternate captain with Keith out. ... Kampfer made his first appearance of the season, and D Alex Petrovic was a healthy scratch. D Dylan Olsen and LW Shawn Thornton also were inactive. ... Blackhawks LW Bryan Bickell was a healthy scratch. He played in Chicago's first six games, but is still looking for his first point of the season.