Packers want to get Davis, Jackson more involved against Falcons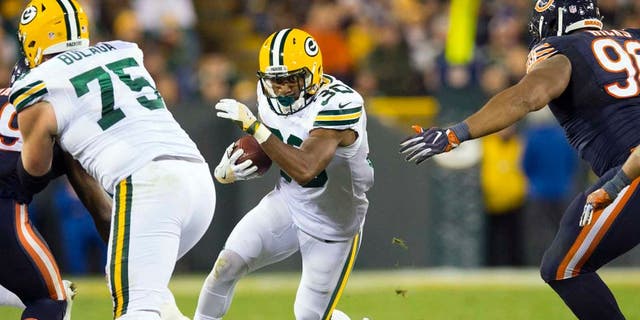 GREEN BAY, Wis. -- A full week of practice could help newly acquired running back Knile Davis get up to speed in the Green Bay Packers' injury-depleted backfield.
And a swelling-reducing glove may help rookie Don Jackson contribute, too.
Davis had a long weekend to study the Packers' offensive playbook after arriving in an Oct. 18 trade from Kansas City -- less than 72 hours before the Packers' victory over the Chicago Bears last Thursday night. Coach Mike McCarthy was reluctant to play Davis with so little time to learn the schemes, so Davis didn't see action on offense until late in the fourth quarter, carrying twice for 1 yard.
"There's definitely some similarities (to Kansas City's playbook). I've just got to get the terminology and verbiage together," Davis said. "I'm definitely excited."
McCarthy said Davis spent the weekend working with running backs coach Ben Sirmans to get a better feel for the offense entering Sunday's game at Atlanta.
"He's part of the game plan," McCarthy said of Davis. "I like what he brings to the table. He's a natural football player, someone that's played a lot of football, was successful obviously in college, and he's been in the league. I think this is just more of a language and communication gap that you have to fill. He's very bright. He's making progress."
Jackson, meanwhile, took part in Wednesday's practice after X-rays did not show a fracture in his left hand, which he injured against Chicago. In an effort to reduce swelling, Jackson wore a special therapeutic glove throughout practice and was able to carry the ball with both hands - something he couldn't do after the injury occurred.
"It's already looking better," Jackson said. "The trainers, they're pretty optimistic about it. We've still got (four) days, so we've still got some time. And it's already taken, I think, a dramatic leap from Sunday till now. I couldn't even like have anybody touch it, and now it's to the point where I can move it a little bit, I have a little bit of grip."
Still, McCarthy said Jackson must take part in Thursday's contact-filled, in-pads practice to gauge how realistic it is for him to play against the Falcons.
"It's important for him to go through team work, especially (Thursday). He needs to go through the half-line drill and the full physical team," McCarthy said. "That will obviously give us direction on how we proceed Sunday."
If the Packers have both Davis and Jackson at their disposal against the Falcons, they won't have to rely as heavily on Aaron Rodgers. He threw 56 passes - five fewer than his single-game career high - and finished with a career-best 39 completions against the Bears.
It would also allow McCarthy to pick and choose how he uses receiver-turned-halfback Ty Montgomery, who carried nine times for 60 yards and caught 10 passes for another 66 yards against the Bears.
The Packers are in such dire straits at running back because they lost starter Eddie Lacy for at least eight weeks (ankle/foot). Green Bay has been without No. 2 running back James Starks because of a knee injury that required arthroscopic surgery on Oct. 16. It's unclear how soon he'll return.
"(Montgomery) and Don spent some extra time with me the night before (the Bears game) talking about different things, and I'm sure that will happen this week. Maybe we'll get Knile in on it as well this time to make sure he's ready to go," Rodgers said. "We've got to go with the guys we've got and make sure they're ready to play."
NOTES: Despite their mini-bye after their Thursday night victory, the Packers had a whopping nine players on their injury report. In addition to the players not expected to play against Atlanta - Starks, tight end Jared Cook (ankle) and cornerbacks Damarious Randall (groin) and Quinten Rollins (groin) - three other players were slight surprises: linebacker Clay Matthews (hamstring), wide receiver Randall Cobb (hamstring) and Montgomery (illness). . Matthews did not practice Wednesday and apparently injured his hamstring against the Bears. Montgomery spoke with reporters after practice and is expected to play, while Cobb was a limited participant. . The Packers added rookie center Jacob Flores to the practice squad. He spent the offseason and training camp with the Packers after signing with the team, but was cut at the end of camp.