Orlando Magic open themselves up to world of pain on Twitter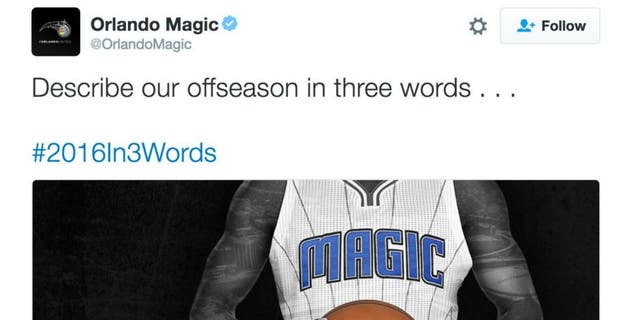 NEWYou can now listen to Fox News articles!
The Orlando Magic had a...vexing...offseason of acquisitions and front office maneuvering.
The team brought in addition rim protection in Serge Ibaka in exchange for a insignificant cache of talent in Victor Oladipo, Ersan Ilyosova and the rights to 2016 first-round draftee Domantas Sabonas.
That move gave fans pause, and only became more vexing when the team doubled down on lane enforcement by signing former Toronto Raptors center-forward Bismack Biyombo to a four-year $72 million.
This move was the one that sent Magic fans into a tailspin of "Oh no, we're doing it again" panic. But there was no place for them to formally congregate and express this with the team. Until Saturday.
The Magic tweeted out a message to their followers asking them to sum up their offseason with three words. Turns out: bad call.
Brush it off, Orlando. The timeline comes for all of us.
Dan is on Twitter. His offseason in three words: Gator ain't real.