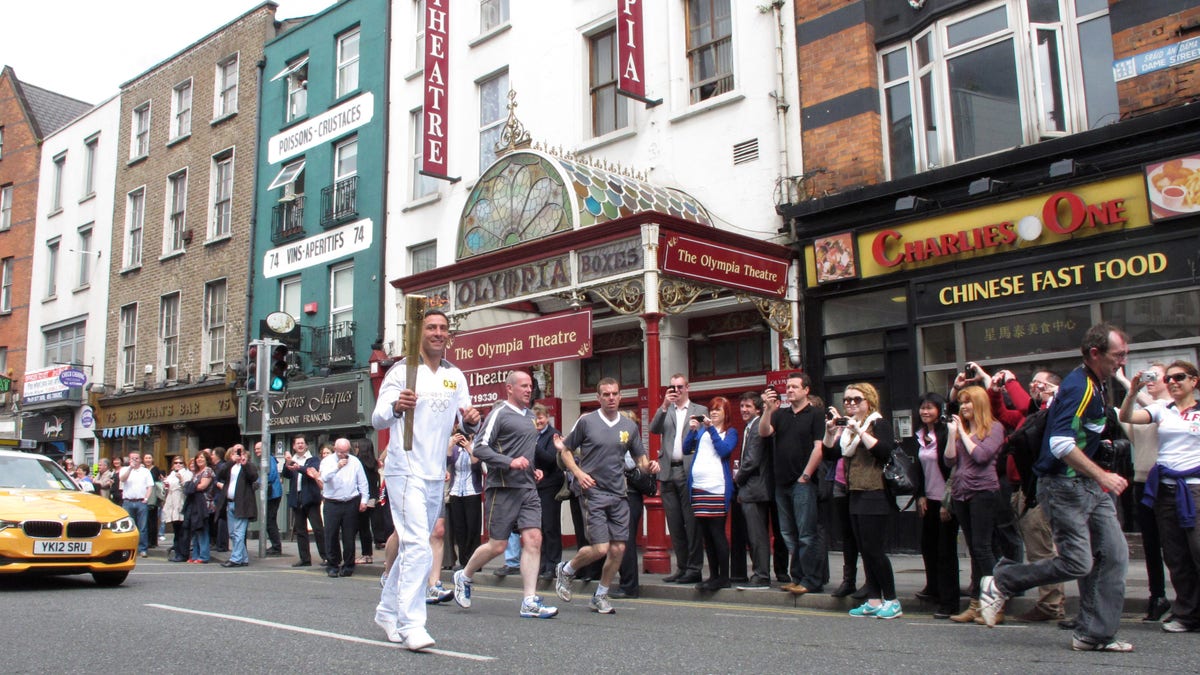 DUBLIN – The Olympic flame went on a cross-border peace mission Wednesday to Dublin to celebrate Northern Ireland reconciliation and strong British-Irish ties.
A convoy sped the symbol of the London Games to the Irish capital after a dawn ceremony at the border between the Republic of Ireland and the British territory of Northern Ireland. There, two Olympic medal-winning boxers and former teammates -- one a British Protestant from Belfast, the other an Irish Catholic from Dublin -- embraced and held aloft their two torches.
Belfast bantamweight Wayne McCullough, who won silver in Barcelona in 1992, lit the torch held by Michael Carruth, who won gold as a welterweight 20 years ago. Then McCullough kissed his old friend on his bald head to laughs and cheers from a few hundred locals from both sides of the border.
Ireland's head of state, President Michael D. Higgins, officially welcomed the flame's arrival in Dublin at the Irish Olympic headquarters in the suburban fishing port of Howth. Several thousand spectators packed the harbor as Higgins declared that the Olympic flame "shone for the spirit of sport and unity."
After another high-speed transit past rush-hour traffic along Dublin Bay, the flame took a panoramic tour on a newly opened walkway atop Croke Park, the 82,000-seat cathedral for Ireland's native sports of Gaelic football and hurling.
Henry Shefflin, a 33-year-old former captain of Ireland's most dominant hurling team, Kilkenny, walked alone along the wind-swept concourse 132 feet (44 meters) above the ground.
Scores of torch bearers, many of them local celebrities from Irish sports and entertainment, carried the flame down Dublin's main boulevard of O'Connell Street, along the River Liffey across a harp-shaped bridge, past medieval cathedrals to the government headquarters. There Ronnie Delany -- at 77 years old, Ireland's oldest living Olympic champion -- posed with torch in hand beside Prime Minister Enda Kenny and Foreign Minister Eamon Gilmore.
"I got an emotional buzz," said Delany, who won gold in the 1500-meter race at the Melbourne Games in 1956. "I'm not the most emotional person in the world, but my 10 grandchildren were there, I saw them all, and I actually had tears in my eyes, because they're all so beautiful and so young.
"And they never see papa in this guise," he said, gesturing to his white Olympic track suit. "I'm normally that grumpy old fella at home. And suddenly I'm grandpa the great athlete."
Sonia O'Sullivan, Ireland's most celebrated runner, who took silver in the 5000 meters in Sydney in 2000, carried the torch through a crowd of more than 20,000 packed into Dublin's central park, St. Stephen's Green, to light the cauldron concluding the Dublin relay. O'Sullivan, who is now leader of the Irish Olympic delegation to London, said persuading British organizers to bring the torch to Dublin would motivate the Irish athletes to train harder.
"You need something like this to remind you how much Olympic sport means to Irish people," said O'Sullivan, 42, who may be better remembered internationally for her gut-wrenching performance at the Athens Games in 2004. Ill with a stomach bug, she collapsed and struggled home last in the 5000 meters, crying as the crowd cheered her on.
In a bizarre ad-lib conclusion, Dublin pop duo Jedward -- John and Edward Grimes, identical-twin brothers with seemingly bulletproof, skyrocketing hairdos -- got on stage to make a range of excited, semi-coherent comments to the crowd, O'Sullivan and Lord Mayor John Montague, whom they called "this guy." Earlier, Jedward had carried the torch together down O'Connell Street past hundreds of screaming teenage girls.
"Everybody make noise because we didn't, like, light our hair on fire!" John Grimes joked to the crowd.
While even the most obscure Irish Olympic figures featured in the event, the country's greatest medal-winner, swimmer Michelle Smith de Bruin, was not involved. Smith won three golds and a bronze in Atlanta in 1996 amid widespread suspicions of doping. She was kicked out of the sport in 1998 for spiking her urine sample with whiskey in an apparent bid to cloak the presence of a body-building drug. She was allowed to keep her Olympic medals, but her achievement has rarely been mentioned in Ireland since.
The flame returned to Northern Ireland in the afternoon for torch relays through the border town of Newry, the British Army garrison town of Lisburn, and a planned 2 1/2-hour circuit of Belfast concluding with a street party in front of Belfast City Hall.
Northern Ireland police said they were deploying reinforcements to ensure that Irish Republican Army splinter groups or their supporters do not spoil the celebrations.
On Sunday, IRA supporters jostling with police at a security barrier forced the torch to divert its course in Northern Ireland's second-largest city, Londonderry. That five-minute disruption has been the only trouble so far for the Olympic cavalcade. The event has highlighted how relatively calm Northern Ireland has become after a four-decade conflict that claimed 3,700 lives and five years of a stable Catholic-Protestant government.
Several small IRA factions do continue to oppose the 2005 decision of the major group, the Provisional IRA, to renounce violence and disarm, and have tried to make their presence felt during the Olympic visit.
Earlier in the day Wednesday, shortly after midnight, a grenade was thrown at a police vehicle on the outskirts of Catholic west Belfast after officers responded to reports that a house had been attacked by vandals. Two civilian cars absorbed the brunt of the blast, and nobody was injured. The attack happened nowhere near the route of the Belfast torch relay.
On Saturday, another grenade hit a police vehicle in a Catholic part of Londonderry as officers searched a home. That vehicle suffered heavy damage but no officers were hurt.
The flame is scheduled to leave Northern Ireland late Thursday for Scotland. More than 8,000 torchbearers are carrying the flame throughout the United Kingdom, and the British islands of Jersey, Guernsey and the Isle of Man, in advance of the July 27-Aug. 12 London Games.