Ohio State survives Minnesota, now 7th in AP poll with College Football Playoff in sight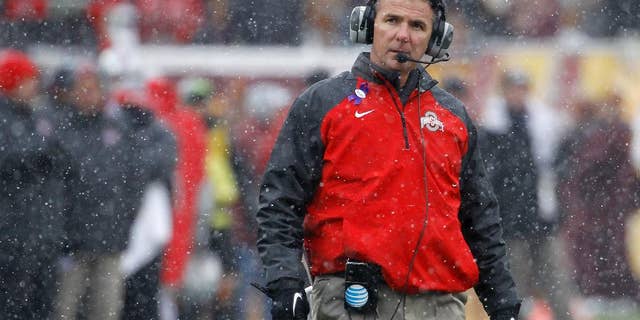 MINNEAPOLIS – Ohio State could have found a trap game waiting at Minnesota, coming off that resounding win at Michigan State.
The Buckeyes sidestepped a setback with a resilient performance against the gritty Gophers, positioning themselves to move up in the College Football Playoff rankings after some of the teams ahead of them had trouble.
"That was a really great team that we just played," Ohio State wide receiver Evan Spencer said after Saturday's 31-24 victory at cold and snowy Minnesota.
Strength of schedule and style points will factor into the CFP committee's decision on the final four teams that will play in the first true national championship format in the history of the sport's top tier. A loss at home to Virginia Tech has shackled Ohio State's resume all season, but the Buckeyes surged back into contention by decisively beating the Spartans. Then they survived three turnovers, the wintry weather and a powerful running game by the Gophers.
The one-touchdown margin won't stand out on a list of scores, considering Ohio State was a 12-point favorite and has lost only twice to Minnesota since 1966. But the Buckeyes (9-1, 6-0) were adamant afterward about the quality of this Big Ten win.
"I challenge any team in the country that wants to go ahead and schedule this one in November," coach Urban Meyer said.
Ohio State moved up to seventh in The Associated Press poll published on Sunday. The next CFP rankings will be revealed on Tuesday.
The Buckeyes were eighth on the CFP list last week, and sixth-ranked Arizona State lost at Oregon State. No. 5 TCU also struggled, needing a late rally to beat lowly Kansas. The top-ranked team, Mississippi State, lost to Alabama.
Ohio State finishes the season at home against Indiana (3-7, 0-6) and Michigan (5-5, 3-3). Then there's the Big Ten championship game, assuming the Buckeyes win at least one of those next two to clinch the East Division title. Four teams, including Minnesota (7-3, 4-2), remain alive in the West Division race. Wisconsin (8-2, 5-1) is the leader.
"Outstanding," Meyer said, when asked what the mood was like in the locker room afterward. "Like we're one game away from winning the East championship. That's what it's like."
The temperature of 15 degrees at kickoff was the lowest in Buckeyes records dating back more than a half-century. Whether in wintry or summer-like conditions, though, Ohio State has the fastest team in the Big Ten.
The Gophers were the latest to find that out first hand. Freshman J.T. Barrett kept the ball on a third-and-1 read-option play in the first quarter and burst into a wide-open secondary for an 86-yard run, the longest ever by an Ohio State quarterback. He threw an interception and Jalin Marshall lost two fumbles, leading to 21 points for Minnesota, but the Buckeyes did plenty more right on an afternoon when it would have been easy for a lot to go wrong.
"Kind of rough, especially in that first half. Definitely got better in the second half," Barrett said.
Barrett threw for three touchdowns and ran for a score and 189 yards, one of three of Braxton Miller's records he broke in another well-beyond-his-years performance. Barrett completed 15 of 25 passes for 200 yards in another stellar showing by the fill-in for the injured Miller.
"I had no idea that this is who J.T. Barrett is," Meyer said. "Very clear picture of who he is now."
The country has a clearer picture of these Buckeyes now, too. Stung by that loss to the Spartans in last season's Big Ten title game, they are still in the hunt for the ultimate goal of a national championship.
"Great team win," Meyer said. "Not great execution, but a great team win."