Oft-injured Victor Cruz returns to practice with the NY Giants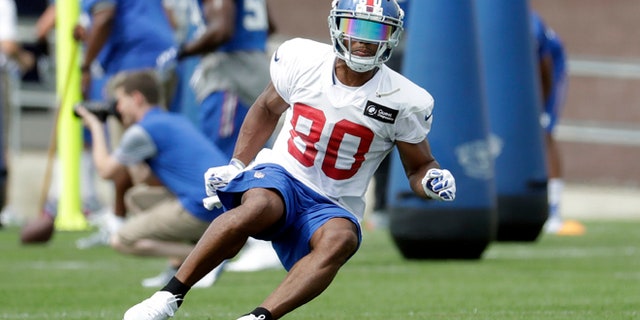 EAST RUTHERFORD, N.J. (AP) – Victor Cruz has returned to practice for the New York Giants and earned the Odell Beckham Jr. seal of approval.
It marked the first time in almost two weeks that the oft-injured 29-year-old wide receiver practiced with the team, and slightly increases the hope he will be able to resume his career after two frustrating seasons.
Cruz missed last season with a calf injury and had his 2014 season ended after six games by a knee injury.
The Giants and Cruz have been hoping this will be the year he returns, but there are still doubters. Cruz missed the opening two preseason games with a groin injury, and there is no certainty that he will be able to play on Saturday night against the Jets.
Cruz was not available after practice Tuesday to say how he felt.
Beckham, who has emerged the Eli Manning's go-to guy in Cruz's absence the past two seasons, liked what he saw from the receiver who was one of the NFL's biggest playmakers before being hurt.
"Just seeing him back out there catching some balls, bursting a little bit," Beckham said. "It feels good. It feels right."
The play Beckham appreciated was the one where he was running a deep pattern and Cruz was running one underneath.
"I looked back to see where the ball went and it went to 80," Beckham said. "It was one-high coverage and it went to 80 and I see him take off. At first you see it and I was like I'm about to get this one. Then the ball went somewhere else and I saw him catch it, turn up field and burst. It's great to see Vic back out there. He's been through quite a lot."
If Cruz can come back, the Giants would have three receivers with big-play potential — Beckham, Cruz and rookie Sterling Shepard, the second-round draft pick.
Giants general manager Jerry Reese has said he wants to see Cruz play in two preseason games.
Beckham said the important date for Cruz is Sept. 11, the season opener at Dallas.
"In my opinion, if he came out of preseason and didn't do anything, dropped 95 balls and then came out in the regular season and caught everything, how much did it really matter at the time," Beckham said. "That's more of an opinionated question for him, I guess. In my mind, I'm definitely looking forward and think Vic will be ready come Sept. 11."