Odell Beckham to practice on Saturday, play on Sunday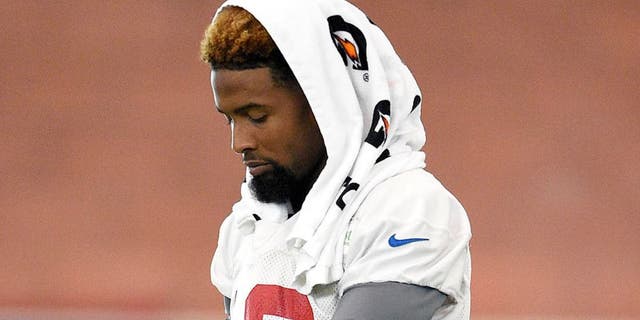 NEWYou can now listen to Fox News articles!
Odell Beckham Jr. will be ready to roll for the Giants' key divisional matchup with the Dallas Cowboys in Week 7. Steven Ryan USA TODAY Sports
New York Giants wide receiver Odell Beckham Jr. missed practice again on Thursday, but there is no reason to be worried about his Week 7 status. Beckham broke down the team's plan for him, and it involves Beckham suiting up on Sunday.
"Just kind of easing into it. We have our nice little recovery day [Friday], then we practice Saturday, so definitely just looking forward to that and Sunday,'' Beckham said to reporters on Thursday, per The New York Post. "[It] feels good, feels great. I'm just focused on Sunday. We're going to be all right. Game plan is for Sunday.'
"I like to run around and feel it out. You practice hard, you play hard. Sometimes it is hard to not be able to practice and just have to go in to it, but that's where the mental reps really kick in,'' Beckham added.
Head coach Tom Coughlin has operated under a similar plan to this one with a former star wide receiver -- Plaxico Burress. Just like the injury situation with Burress, Coughlin admits that this plan of attack, where Beckham misses practice time, could linger.
"This is where we are right now," Tom Coughlin said. "May be that way for a while now. I hope not. Obviously you practice, you get better."
MORE NEWS: Want stories delivered to you? Sign up for our NFL newsletters.
Beckham led all Giants wide receivers in offensive snaps in Week 6, and he only missed two total offensive snaps the entire game.