Not so hot in Cleveland: LeBron sent home sick before game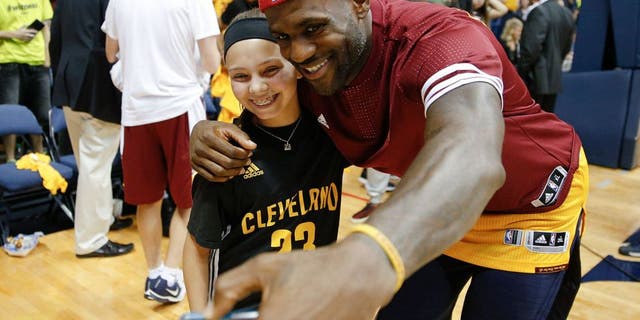 NEWYou can now listen to Fox News articles!
LeBron James and Cleveland's other four projected starters sat out as the Cavaliers dropped to 0-4 in the exhibition season with a 110-101 loss to the Milwaukee Bucks on Tuesday night.
Greg Monroe and rookie Rashad Vaughn scored 19 apiece for the Bucks, who trailed by three going into the fourth quarter. Monroe had 13 rebounds and John Henson added 16 points and 10 boards for Milwaukee, which is expected to build off a surprising run to the playoffs last season.
James was given the night off by coach David Blatt as the Cavs played their second game in two nights. Center Timofey Mozgov also got a break and the defending Eastern Conference champions remain without Kyrie Irving (knee), Kevin Love (shoulder) and J.R. Smith (hamstring).
James came to Quicken Loans Arena, but the four-time MVP didn't feel well and was sent home.
Mo Williams scored 18 on 4-of-15 shooting and Richard Jefferson had 16 for Cleveland.
BUCKS: F Damien Inglis made his first start and finished with two points in eight minutes. Inglis missed last season after undergoing two surgeries on a broken ankle. ... O.J. Mayo had 12 points and 10 assists. ... F Giannis Antetokounmpo didn't play.
CAVALIERS: F Jared Cunningham, making a strong push to make Cleveland's roster, shot just 1 of 12 and scored six. ... Cleveland had just one turnover in the first half.
TOO LONG: Blatt would like to see the exhibition season shortened to a "maximum" five games to give players more rest. "I think that would be good for the game," Blatt said. "I know that it would be good for the players and I also think it would be good for the fans."
Bucks coach Jason Kidd is also in favor of a shorter preseason.
"I'm all for four (games)," he said. "I think the lockout year it was two and we went. No one complained."
LOVE STORY: Love hasn't played since his left shoulder was yanked from the socket by Boston's Kelly Olynyk in the opening round of last season's playoffs. Love recently started practicing and Blatt said "perhaps" the forward could make his preseason debut Sunday in Toronto.
PARKER UPDATE: Bucks F Jabari Parker has yet to be cleared by doctors to play after undergoing knee surgery, but coach Jason Kidd said he's making progress and looks terrific in practice. Parker, the No. 2 overall pick in the 2014 draft, tore a knee ligament 25 games into his rookie season.
"You can see his body has changed and you can see in practice his voice has changed," Kidd said. "He's talking a lot more. But in our eyes he's still a rookie. He has the Cliff Notes (of being in the NBA) because we tried to keep him around after the injury as much to be a part of the team."
UP NEXT: Milwaukee hosts Washington on Saturday. Cleveland hosts Indiana on Thursday.