No days off: Kershaw preparing for potential NLCS on Dodgers off-day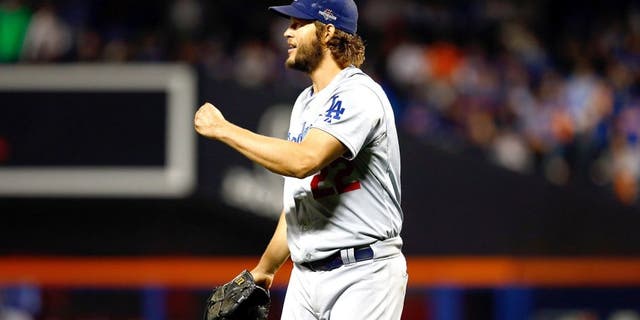 NEWYou can now listen to Fox News articles!
After a redemptive Game 4 win, Clayton Kershaw is preparing for a potential trip to the NLCS. Mike Stobe Getty Images
The Los Angeles Dodgers had an official off-day on Wednesday as they prepare for a winner-takes-all Game 5 on Thursday, but that didn't mean Game 4 winner Clayton Kershaw was relaxing at home.
Less than 24 hours after he led the Dodgers to a pivotal Game 4 in the NLDS in New York on Tuesday, Kershaw was at Dodger Stadium working out, per MLB.com.
"Got to pitch Sunday," said Kershaw, who was performing his usual routine the day after making a start.
According to MLB.com, Kershaw said he didn't arrive at his home until 4:30 a.m. PT after flying across the country from New York, slept briefly, and then ran and played catch at Dodger Stadium on Wednesday.
If Zack Greinke and the Dodgers pull off a Game 5 victory, Kershaw is on the slate to pitch Game 2 of the NLCS against the Chicago Cubs after pitching Game 4 on short rest on Tuesday. Lefties Brett Anderson or Alex Wood would take the hill for Game 1 and Greinke would be tabbed for Game 3 of the NLCS.
Shaking his late-outing postseason woes, Kershaw pieced together an excellent performance in Game 4, striking out eight while allowed one earned run and three hits over seven innings to keep the Dodgers' postseason aspirations alive.