NL West: Rockies look to Desmond, Dunn to improve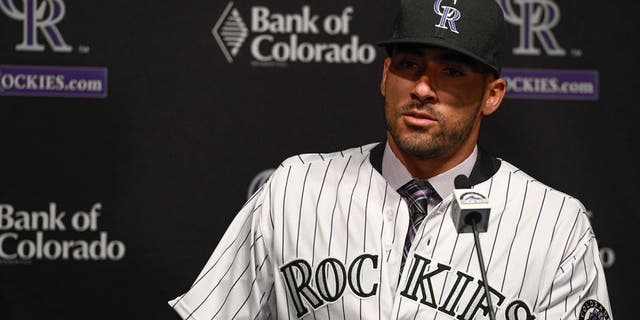 DENVER (AP) -- The usually cost-conscious Colorado Rockies went on a little bit of a spending splurge in free agency.
They made big investments in an effort to give the Los Angeles Dodgers and San Francisco Giants a run for their money in the ultra-competitive NL West.
The Rockies signed All-Star outfielder Ian Desmond ($70 million, five years) to transition over to first base, added left-handed reliever Mike Dunn ($19 million, three years), brought in versatile infielder Alexi Amarista ($1.25 million, one year) and, in their boldest move of all, scooped up righty Greg Holland ($7 million, one year), the once-dominant closer who's coming back from elbow reconstruction surgery.
One thing's for sure: The moves boosted morale for a team that hasn't been to the postseason since 2009.
"We could have went in a completely different direction, and that might have been a little disappointing for me," reliever Adam Ottavino said. "I've been here a while and I really want to win as soon as possible. The fact we're taking steps toward that end, it's that much more exciting."
There will be a new voice in the dugout, too, with manager Bud Black taking over for Walt Weiss. Black is the first Rockies skipper with a bona fide pitching background, which should come in handy at Coors Field.
"When I first talked to him, it felt like I've known him for a long time. He's easily relatable," right-hander Jon Gray said. "It's easier to buy into something when your coach has been through the same spot you're going through."
Colorado boasts a powerful lineup led by Nolan Arenado and an up-and-coming starting rotation anchored by Chad Bettis, who was recently pronounced cancer-free after dealing with testicular cancer this offseason. What's more, the team shored up its glaring deficiencies in the bullpen and at first base through free agency. Holland could be the lights-out closer the Rockies have been searching for -- provided, of course, his arm is healthy again after missing all of last season following Tommy John surgery.
No wonder the Rockies are a trendy pick to make a run at a playoff spot.
"We don't really pay attention to what people are saying about us," said shortstop Trevor Story, who was having a monster rookie season before going on the DL in early August with a torn ligament in his left thumb. "We're a pretty tight-knit group. We're a very confident group. We have a belief we can be really good."
Here are some things to watch for from the Rockies:
NEW LOOK: Outfielder David Dahl is primed for a big season. That is, if he can get steady playing time. The team already has a plethora of outfielders with Carlos Gonzalez, Charlie Blackmon and Gerardo Parra. Dahl hit .315 with seven homers last season.
ROOKIES TO WATCH: Lefty Kyle Freeland has a good chance to make the roster. He grew up in Denver and was the eighth overall pick in the 2014 draft.
THEY'RE SET: Definitely infield. There's Arenado, the four-time Gold Glover at third base who led the league with 133 RBIs. Story is healed and ready to pick up where he left off and second baseman DJ LeMahieu is fresh off winning an NL batting title. Desmond has quickly picked up first base.
THEY'RE NOT: Catcher. Tony Wolters and Tom Murphy figure to split time, while Dustin Garneau may be in the mix as well.
ON DECK: Bettis was given a clean bill of health after being diagnosed with testicular cancer, and should be ready for the start of the season. "Opening day -- 100 percent, it's my mindset," Bettis recently said. "Just keep moving forward."