Nike fires back at Kevin Durant's critics with post-championship ad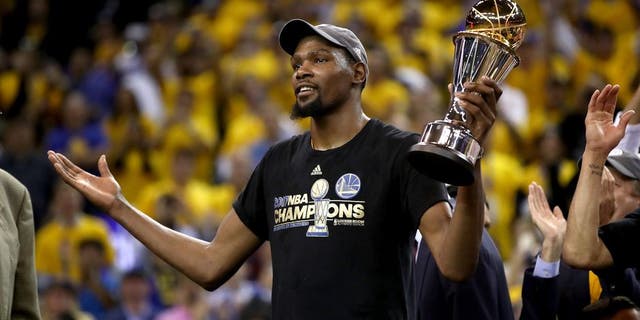 NEWYou can now listen to Fox News articles!
There weren't too many people surprised when Kevin Durant won his first title on Monday night in Oakland. After all, the Warriors were a 73-win, championship-caliber teambeforesigning Durant, so it's not exactly an underdog story.
Nike certainly wasn't surprised, as they had prepared a commercial to run in the immediate aftermath of the Warriors' title clincher on Monday. That ad, which you can see below, aims to fire back at all the critics that have had various knocks on KD throughout his career -- from his draft scouting report, to his inability to win it all in OKC, to his decision to join Golden State.
Durant was lights out in the Finals and ended up taking home the series MVP award. He proved to be amajor difference-maker for the Warriors and left Cleveland searching for answers -- ones they'll continue to look for this offseason.
But let's be honest here: Winning a title isn't going to shut up Durant's haters. Sure, they'll have to retire the "choke artist" label and concede that he was dominant on basketball'sbiggest stage, but many will still argue that he jumped ship as a leader with the Thunder and cruised his way to a ring via the path of least resistance.
LeBron's critics didn't shut up after he finally won in Miami (twice), so it's probably not going to just go away for KD.He probably won't care.
I hear all the narratives throughout the season that I was joining, I was hopping on bandwagons, I was letting everybody else do the work, Durant said, via the AP. But then that was far from the truth. I came in and tried to help my team. Like I said, tried to be myself, be aggressive and sacrifice as well.
It's interesting that so many critics andfans place an emphasis on "rings over everything" when it comes to debating the greatness of individual players, yet many of the same people criticize guys for ring-chasing.
Whether it's fair or not, Durant's not in the clear yet. The debate may be temporarily quieted in the wake of his first title, but he's still got a ways left to go.