Nick Saban is standing by Cam Robinson in a big way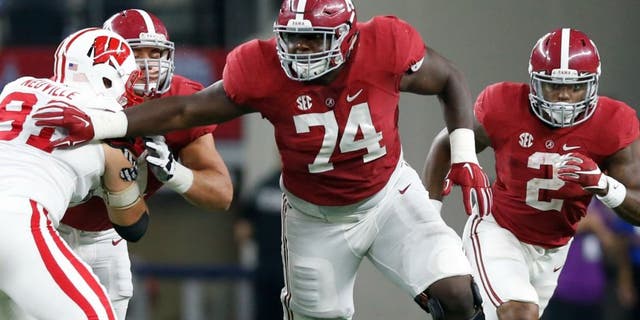 NEWYou can now listen to Fox News articles!
HOOVER, Ala. -- If you thought Nick Saban might sit down star left tackle Cam Robinson for the Tide's season opener against USC -- or part of the opener, think again.
The 6-6, 329-pound junior was arrested in May, along with backup DB Hootie Jones in Louisiana. There was a felony charge against Robinson for possession of a stolen firearm. The charges were later dropped for insufficient evidence. Saban was asked at SEC Media Days about the status of Robinson and what that meant in regards to him possibly missing playing time.
"Cam Robinson and Hootie were not charged with anything," Saban said Wednesday. "I think the facts we have are a little different than what was advertised. Both players have done a significant amount of things to change their behavior internally, whether it was police ride-around, whether it was community service, or juvenile groups that need positive role models and influence to make better choices and decisions. We have viewed this as these guys do these changes to change their behavior and help these other people. It's ongoing. If they continue to do that, that will be how this matter is handled internally."
A few minutes later, in response to a different question about Robinson, Saban added that if those players do what has been asked by Alabama internally, they will play in the opener and not miss any time. Saban also took issue with the notion that in order to discipline players who have gotten in trouble, they must miss game action. "To think that is the only way to help players is by suspending them for games is a punitive attitude that may not be correct."
Robinson, a Monroe, La., native, is arguably the nation's top O-lineman and the Tide's most indispensable player. He is a devastating run blocker and anchor to a line that must replace its leader, center Ryan Kelly. Robinson has started all 29 games in his career at Alabama