NFL legend John Madden dead at 85
The NFL announced Madden's unexpected death on Tuesday
NEWYou can now listen to Fox News articles!
John Madden, one of the NFL's most iconic figures – as a Super Bowl-winning coach and as a longtime TV analyst who translated the intricacies of football in a colorful way that even casual fans could understand – died Tuesday at age 85, the league announced.
"On behalf of the entire NFL family, we extend our condolences to Virginia, Mike, Joe and their families," NFL Commissioner Roger Goodell said in a statement. "We all know him as the Hall of Fame coach of the Oakland Raiders and broadcaster who worked for every major network, but more than anything, he was a devoted husband, father and grandfather.
"Nobody loved football more than Coach. He was football. He was an incredible sound board to me and so many others. There will never be another John Madden, and we will forever be indebted to him for all he did to make football and the NFL what it is today."
RAIDERS CLING TO PLAYOFF HOPES WITH 17-3 WIN OVER DENVER
The Hall of Fame coach turned broadcaster whose exuberant calls combined with simple explanations provided a weekly soundtrack to NFL games for three decades. The league said he died unexpectedly and did not disclose a cause.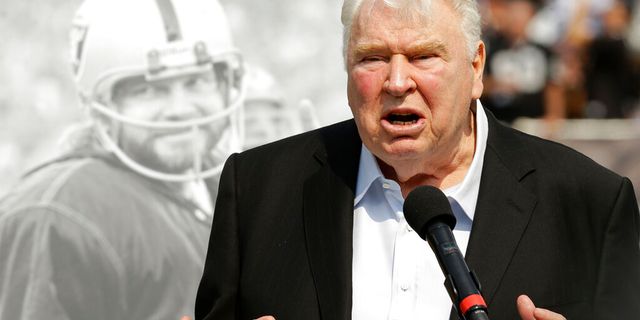 Madden gained fame in a decade-long stint as the coach of the renegade Oakland Raiders, making it to seven AFC title games and winning the Super Bowl following the 1976 season. He compiled a 103-32-7 regular-season record, and his .759 winning percentage is the best among NFL coaches with more than 100 games.
But it was his work after prematurely retiring as coach at age 42 that made Madden truly a household name. He educated a football nation with his use of the telestrator on broadcasts; entertained millions with his interjections of "Boom!" and "Doink!" throughout games; was an omnipresent pitchman selling restaurants, hardware stores and beer; became the face of "Madden NFL Football," one of the most successful sports video games of all-time; and was a best-selling author.
JOHN MADDEN'S LEGENDARY COACHING, BROADCASTING CAREER CELEBRATED IN FOX SPORTS' CHRISTMAS DAY DOCUMENTARY
Most of all, he was the preeminent television sports analyst for most of his three decades calling games, winning an unprecedented 16 Emmy Awards for outstanding sports analyst/personality, and covering 11 Super Bowls for four networks from 1979-2009.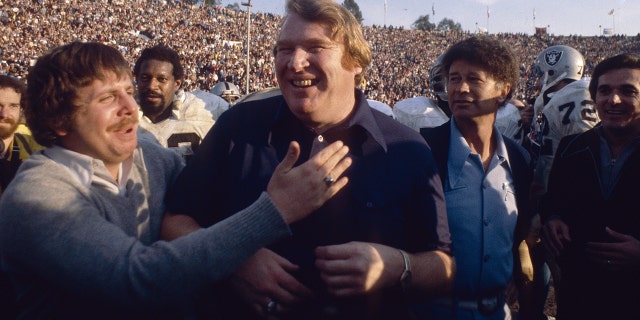 "People always ask, are you a coach or a broadcaster or a video game guy?" he said when was elected to the Pro Football Hall of Fame. "I'm a coach, always been a coach."
He started his broadcasting career at CBS after leaving coaching in great part because of his fear of flying. He and Pat Summerall became the network's top announcing duo. Madden then moved to Fox in 1994 and went on to call prime-time games at ABC and NBC before retiring following Pittsburgh's thrilling 27-23 win over Arizona in the 2009 Super Bowl.
COLUMN: VIRUS FINDS ITS WAY INTO THE NFL PLAYOFF PICTURE
When he finally retired from the broadcast booth, leaving NBC's "Sunday Night Football," colleagues universally praised Madden's passion for the sport, his preparation, and his ability to explain an often-complicated game in down-to-earth terms.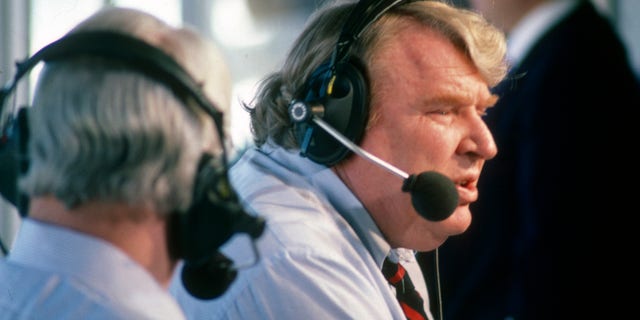 Madden was raised in Daly City, California. He played on both the offensive and defensive lines for Cal Poly in 1957-58 and earned his bachelor's and master's degrees from the school.
Madden was chosen to the all-conference team and was drafted by the Philadelphia Eagles, but a knee injury ended his hopes of a pro playing career. Instead, Madden got into coaching, first at Hancock Junior College and then as defensive coordinator at San Diego State.
Al Davis brought him to the Raiders as a linebackers coach in 1967, and Oakland went to the Super Bowl in his first year in the pros. He replaced John Rauch as head coach after the 1968 season at age 32, beginning a remarkable 10-year run.
With his demonstrative demeanor on the sideline and disheveled look, Madden was the ideal coach for the collection of castoffs and misfits that made up those Raiders teams.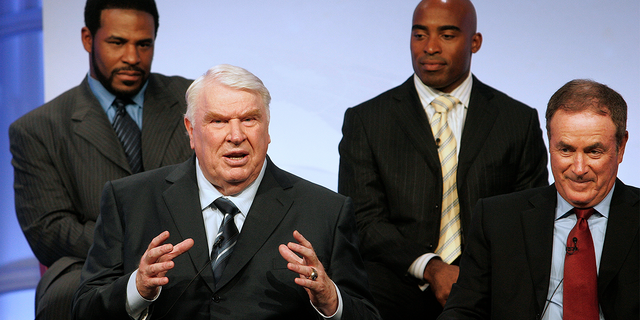 Madden went 12-1-1 in his first season, losing the AFL title game 17-7 to Kansas City. That pattern repeated itself during his tenure; the Raiders won the division title in seven of his first eight seasons but went 1-6 in conference title games during that span.
Still, Madden's Raiders played in some of the sport's most memorable games of the 1970s, games that helped change rules in the NFL.
Madden retired from coaching at age 42 after a 9-7 season in 1978.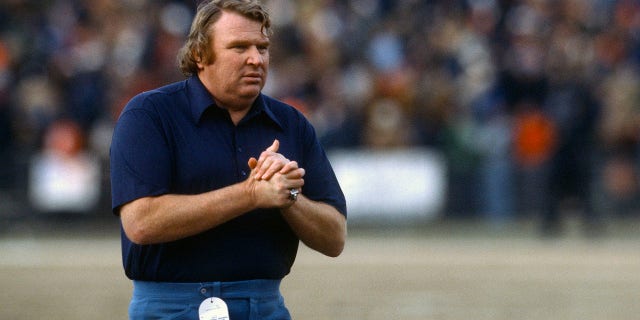 Tributes poured in following news of Madden's death.
American sportscaster Jim Gray called Madden a "great coach and the best broadcaster ever."
"He was the most popular figure in the history of the NFL. As John traveled the country by bus, he spent more time talking and listening to the fans than anyone associated with the game ever has," Gray said in a statement to Fox News. "He loved football and he loved people. He taught us all a great deal. There will never be another John Madden. He was a national treasure."
CLICK HERE TO GET THE FOX NEWS APP
Rep. Burgess Owens, R-Utah, a former Super Bowl champion who played 10 seasons in the NFL for the New York Jets and the Oakland Raiders, said the "Raiders family lost a legend today."
"Honored to have known John Madden," Burgess said. "His impact, knowledge, and love for the game will never be forgotten."
The Associated Press contributed to this report.