NFL Quick Hits: Dez still unlikely for Week 7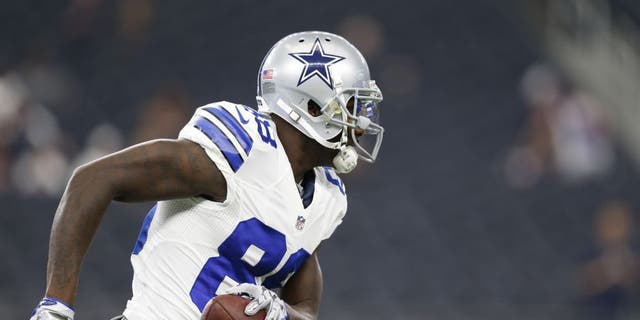 NEWYou can now listen to Fox News articles!
Cowboys owner Jerry Jones commented earlier this week that we shouldn't rule out WR Dez Bryant (foot) from playing on Sunday, and offensive coordinator Scott Linehan has hinted that Bryant could be used on a "limited basis." However, Bryant hasn't practiced outside of conditioning drills, the Dallas Morning News calls his chances of playing "improbable," and the Cowboys' website says that "with each day he doesn't practice in the team period or even individual drills, it's looking more unlikely that he will play this week."
If you own Bryant, you probably got your hopes up a little bit this week. Count on being without him for one more game, and be optimistic about a Week 8 return.
In other news ...
Linehan also said that RB Joseph Randle will "take the bulk of our reps," and that he "wouldn't anticipate there to be big, huge changes for us at this point at the running back position." Much-hyped teammate Christine Michael - who has been touted as a Week 7 starter by beat writers - said, "I'm just as clueless as you are" about how much work he'll get. With all due respect, I think I'm more clueless than Michael is about this situation. However, fantasy rankings wait for nobody, and listening to Linehan is probably our best course of action. Randle is now RB23 in my Week 7 rankings, with Michael at RB31.
Chargers TE Antonio Gates (knee) and Keenan Allen (hip) haven't practiced this week. If Gates can't play Sunday, Ladarius Green will be a terrific tight end to pick up, and his $2,900 DraftKings salary hard to pass up against a Raider defense that has struggled mightily to shut down the middle of the field.
Ben Roethlisberger (kneea) was again limited on Thursday, and the team says it's preparing as if Landry Jones will start at QB. I get the feeling we won't be sure of this situation until Sunday morning.
Remember your byes: The Bears, Bengals, Broncos and Packers are off this week. Also, don't forget that Bills-Jags begins at 9:30 a.m. ET on Sunday, so set your lineups early.
Out for the Bills: WR Sammy Watkins (ankle) and QB Tyrod Taylor (knee).
The Tennessean calls it "increasingly unlikely" that QB Marcus Mariota (knee) will play on Sunday. If Zach Mettenberger plays, it's worth noting that in five games together last season, Mettenberger targeted WR Kendall Wright 35 times for 19 receptions and 356 yards. Those aren't exactly Julio Jones numbers, but they're not bad.
Did you watch Thursday's hideous Seahawks-49ers game? Here's a detailed summary: Marshawn Lynch was very good, Colin Kaepernick was horrible, and everyone else was somewhere in the middle.
Jaguars RB T.J. Yeldon (calf) was limited in Thursday's practice, but is "making progress," according to his head coach.
Chiefs WR Jeremy Maclin (concussion) hasn't practiced this week, but one report suggests he'll be back on the field today and play on Sunday. Stay tuned.
Redskins TE Jordan Reed has been cleared to play Sunday. Reed's injury history has made him unreliable, but since he'll be active, he's worth a start at TE11 on my board. In other Redskins' news, the status of WR DeSean Jackson (hamstring) is again TBD, and RB Chris Thompson (back) didn't practice on Thursday.
Vikings WR Charles Johnson (ribs) is scheduled to return after a two-game absence, but rookie Stefon Diggs is still expected to start. We're about two months removed from Johnson being one of fantasy's trendiest wide receivers, but it's going to be hard for the Vikes to get Diggs off the field.
DFS notes (salaries from DraftKings): Stacking Andrew Luck ($7,600) with either T.Y. Hilton ($6,500) or Donte Moncrief ($5,200) is fine, but the pricing obviously argues for Moncrief ... Being a bit different for the sake of winning tournaments is usually wise, but Todd Gurley ($5,000) versus the Browns is the mustest of must starts ... I love a Rivers/Gates stack for $11,500, as long as Gates plays, of course ... Slot WRs have burned the Colts, and this week's beneficiary should be Willie Snead ($4,300) ... The Rams DST is cheap ($2,400) and gets to the quarterback (19 sacks in five games).
Need help over the weekend? Find us on Twitter (@jhalpin37, @FOXSportsFowler, @FOXSportsMeyer, @FOXSportsFoster), check out our Week 7 rankings and come to our chat on Sunday from 10 a.m. until 1 p.m. ET (I'll have the 11 o'clock hour). We'll have your questions covered, but can't stress enough that waiting until 15 minutes before kickoff is a bad plan.
Good luck this week!