NFL player's wife not sorry for anti-Semitic tweets at team owner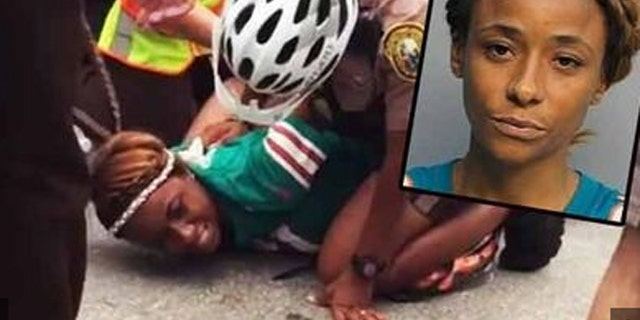 NEWYou can now listen to Fox News articles!
An NFL player's wife with a history of venting on social media is not sorry after insulting Jewish people everywhere, and in particular, the man who once signed her husband's paychecks.
Miko Grimes, wife of former Miami Dolphins Pro Bowl cornerback Brent Grimes, told her sizable Twitter following Monday that Dolphins owner Stephen Ross hired General Manager Mike Tannenbaum for his faith, not his track record.
"Gotta respect ross for keeping his jew buddies employed but did he not see how tannenbaum put the Jets in the dumpster w/that sanchez deal," Grimes tweeted, referring to former Jets quarterback Mark Sanchez.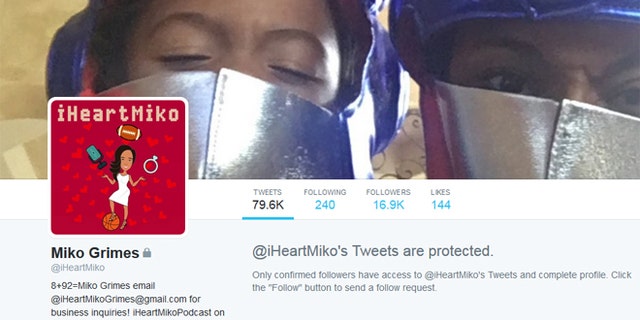 It isn't the first time Brent Grimes, who now plays for the Tampa Bay Buccaneers, has been dragged into a controversy by his wife. She has previously insulted Dolphins quarterback Ryan Tannehill, undoubtedly making for uncomfortable locker room interactions between the players.
Miko Grimes was arrested by Miami police last September before a game against the Buffalo Bills, and charged with disorderly conduct, battery on a police officer and resisting arrest with violence.
The latest comment may not sit well with her husband's new boss, either. The Glazer family, which has owned the team since 1995, is Jewish.
Reached by the Tampa Bay Times, Miko Grimes employed tortured logic to deny the insult was anti-Semitic.
"What would I have against Jewish people?" she told the paper in an email. "Why is this the first time I'm being called anti-Semitic, as big as my mouth is, if I really have an issue with Jewish people? Is anything I said false? Do Jewish, Catholic, Christian and frat brothers, etc. hire their own people? … I was intending to offend the Dolphins, specifically Stephen Ross and Mike Tannenbaum. Anyone else that chooses to dive in front of those bullets is their own fault."
Brent Grimes played three seasons for the Dolphins, who released him in March. The Bucs signed him to a two-year deal worth $13.5 million plus incentives, including $7 million guaranteed.
Miko Grimes' Twitter screeds may have played a role in the Dolphins' decision to cut ties with her husband.
"I think everybody knows what she represented," Ross told the Palm Beach Post in March. "I thought it was best that the Dolphins move on from Brent and Miko."