New York Jets' Mark Sanchez To Get Second Opinion On Shoulder Injury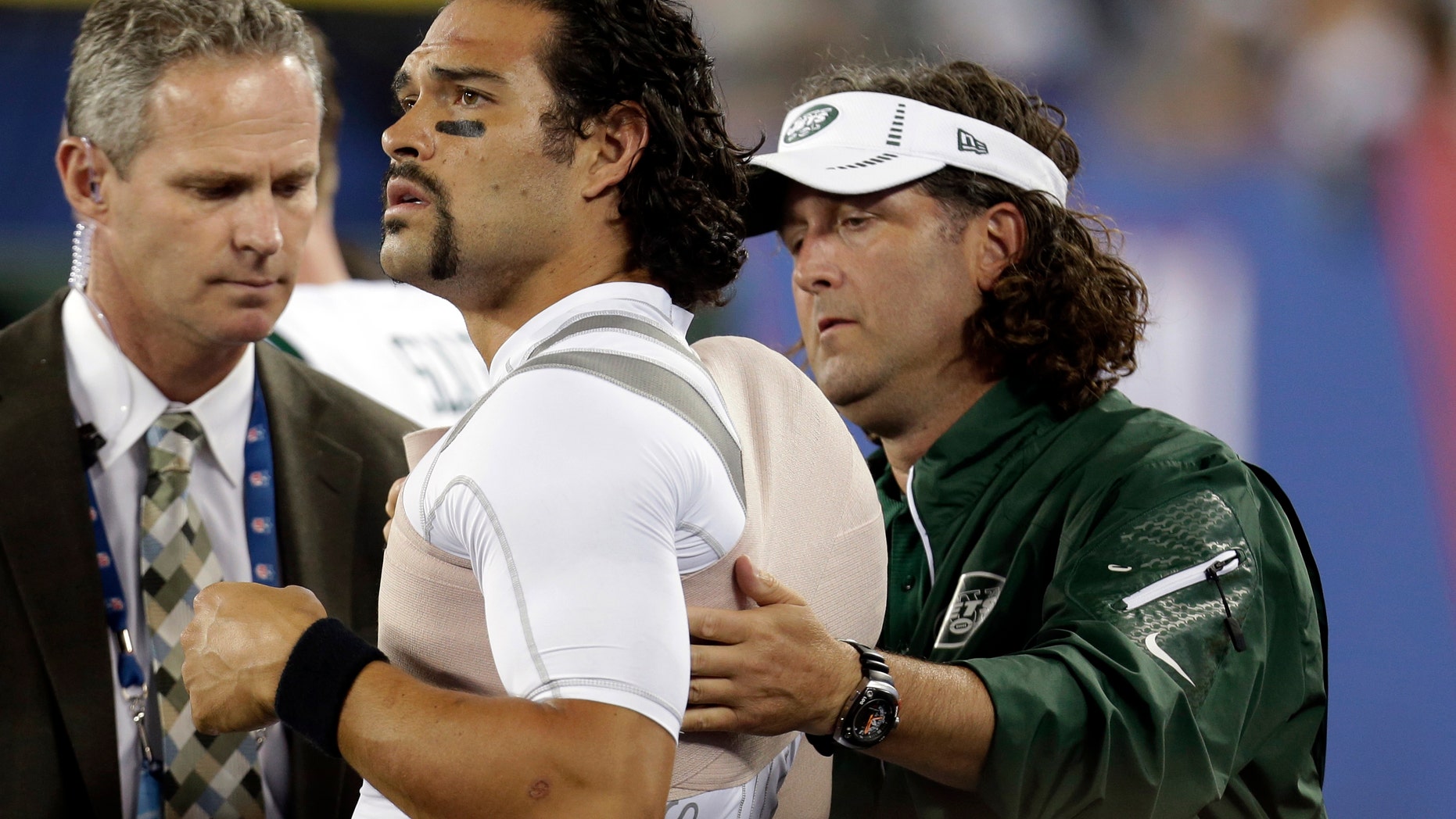 Mark Sanchez is eager to get back on the field, especially before rookie quarterback Geno Smith can make his mark on the New York Jets.
Coming off the team's 18-17 win over Tampa Bay on Sunday, coach Rex Ryan said Smith will play against the New England Patriots Thursday evening after his mostly solid in his NFL debut.
He also added that Sanchez will not be a part of the lineup as the team seeks and the quarterback seek a second medical opinion on his shoulder injury.
According to published reports, Sanchez will meet with Dr. James Andrews at some point this week to get further evaluation.
Sanchez declined to confirm published reports that he will meet with Dr. James Andrews at some point this week.
"I think our team doctor Ken Montgomery is doing a great job and diagnosing things and making sure we're on track to a speedy recovery," Sanchez said. "We just want to make sure we're all on the same page and both sides, really — the team and myself, my agent and I — feel like it's the best idea to get another opinion."
While Ryan says Sanchez hasn't had a setback with the injury, his ailing right shoulder keeps him on the sideline for several weeks.
Despite throwing left-handed during practice, Sanchez insists his right shoulder is feeling better each day.
However, the Jets clearly are uncertain when he might be back, so they re-signed veteran Brady Quinn on Monday, two days after cutting him to prevent his contract from being fully guaranteed.
Sanchez reiterated that he is "day to day" and refused to speculate whether his injury could be season-ending. He was even able to joke when asked how much he could move his shoulder around.
"I'm able to raise the roof," Sanchez said with a big smile.
So, it appears the Jets will move forward with Smith as their quarterback for the near future.
He made his share of mistakes in his debut, including a fumble that led to a score and an interception, but was mostly solid.
He went 24 of 38 for 256 yards with a touchdown to Kellen Winslow Jr., and led New York with 47 yards rushing.
"I was fairly happy with my performance," Smith said. "Obviously, those two turnovers were on me. I've got to do a better job of taking care of the ball and not putting us in tough situations. That's something I'll learn from and get better from."
During training camp, Smith was running about equal to Sanchez in a tightly contested quarterback competition until he sprained his right ankle in the preseason opener. It's an injury that Smith said still isn't completely healed, but isn't hindering him.
Smith was able to not only make plays with his strong arm, but scrambled out of trouble multiple times Sunday. He set up the winning field goal when he took off for the sideline and drew a 15-yard penalty on Lavonte David for a late hit.
"Hopefully, it's something to grow from," Ryan said. "This is what we saw early in training camp. It's not a surprise he would have some success. He's feeling healthy now."
"When the game time comes around, you can't be out there second-guessing yourself," he said. "That's something I'll never do."
Smith has said all the right things from the moment he was drafted, whether it was about his relationship with Sanchez to how he would deal with critics of his skills and abilities.
His confidence has also remained a constant, and that's no different in a short week to prepare for Bill Belichick's Patriots as he tries to lift the Jets to an improbable 2-0 start.
"I embrace the challenge," Smith said. "I know coach Belichick is one of the masterminds in this league. (I have) a ton of respect for him and his team. I expect everything, every single look.
"I will appreciate it, too, because it'll help me out in the future."
Based on reporting by The Associated Press.
Follow us on twitter.com/foxnewslatino
Like us at facebook.com/foxnewslatino