NCAA Tournament: Obama and Rubio Square Off Over Bracket Picks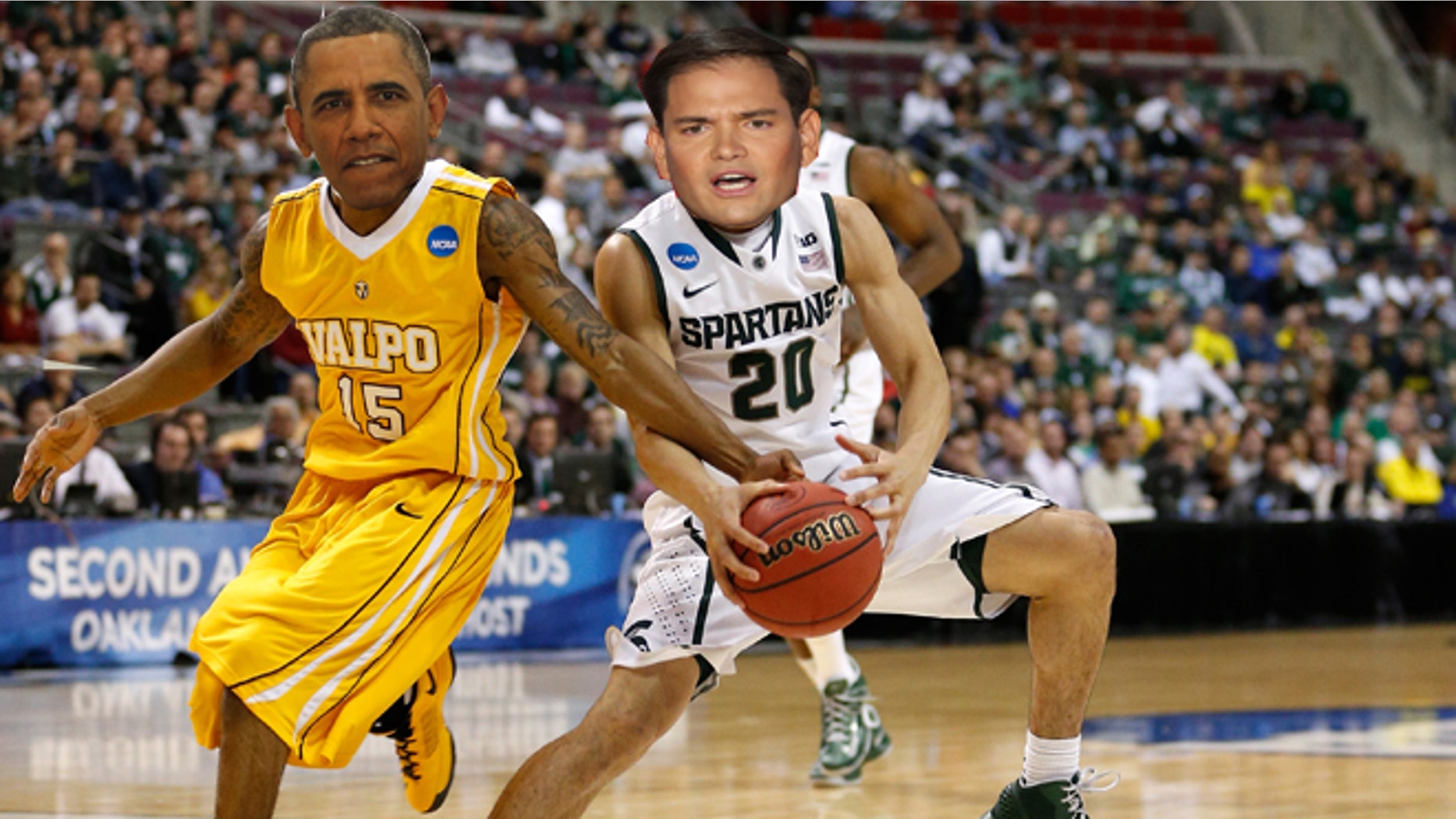 We live in such politically charged times that apparently even the NCAA men's basketball tournament is being politicized.
Forget the break-up of the Big East or which team is moving to a new conference. That's got nothing on two of  the country's biggest political stars from opposite sides of the political aisle putting their tourney picks on the line — in a very public way.
Both President Barack Obama and Republican Sen. Marco Rubio of Florida released their tournament brackets and, much like their political views, their picks are totally different.
Obama, of course the liberal Democrat – who has made a tradition of announcing his picks to the nation with ESPN's Andy Katz – actually took "conservative" route this year, choosing No. 1 seeds Indiana and Louisville to square off in the national championship.
The Indiana Hoosiers get Obama's endorsement over Rick Pitino's Louisville squad in a bracket that features interesting picks like the favored upset of Minnesota over UCLA and a long run by Wisconsin into the Elite Eight.
"UCLA lost a key player, Minnesota's been playing tough," Obama told ESPN. "I think Tubby Smith's team (the University of Minnesota) is going to do pretty well."
Last year, Obama correctly picked two of the Final Four teams, Ohio State and Kentucky – the eventual national champ. It is his fifth consecutive year filling out a bracket.
Unlike Obama's methodical picks, Rubio roots for his hometown, or home state, teams.
Rubio's ride-or-die local attitude, however, seems like a good bet this year as he picks the No. 2 seeded Miami and No. 3 seeded Florida to both go to the Final Four.
While his pick of Florida topping Louisville in the national championship may be a stretch, crazier things have happened (George Mason, anyone?) and there's always something to be said about cheering for the local favorite – and a Billy Donovan-coached team.
In the beltway bracket battle, Obama goes conservative and Rubio goes local. Who would have thought? At least they both agree on Louisville reaching Championship.
Now let's see about that federal budget.
Follow us on twitter.com/foxnewslatino
Like us at facebook.com/foxnewslatino