Nadal Blows his Top, Still Advances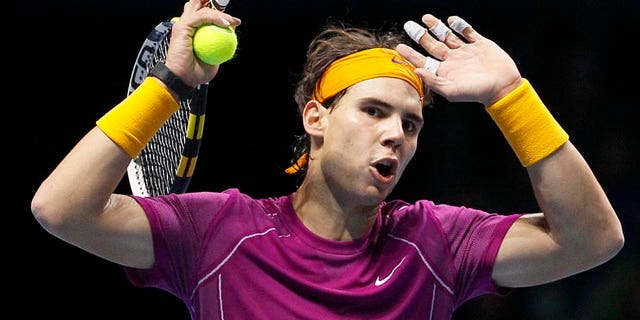 Rafael Nadal lost his cool, but not the match.
The top-ranked Spaniard beat Tomas Berdych Friday to advance to semifinals at the ATP World Tour Finals. He won in straight sets, 7-6 (3), 6-1 Friday.
With the win, Nadal advances as a group winner to meet No. 5 Andy Murray. Berdych, meanwhile, is eliminated from the European tournament.
The win didn't come without controversy for Nadal. Trailing 6-5 in the first set, he lost his composure momentarily and argued furiously with the umpire when Berdych was awarded a point that Nadal felt should have been replayed.
The rare outburst did not affect Nadal, and he dominated the tiebreaker before cruising through the second set to take his round-robin record to 3-0.
Roger Federer's semifinal opponent will be decided later Friday when Andy Roddick plays Novak Djokovic. Roddick must win the match in two sets to prevent Djokovic from claiming second place in Group A.
Based on reporting by the Associated Press.
Follow us on twitter.com/foxnewslatino
Like us at facebook.com/foxnewslatino