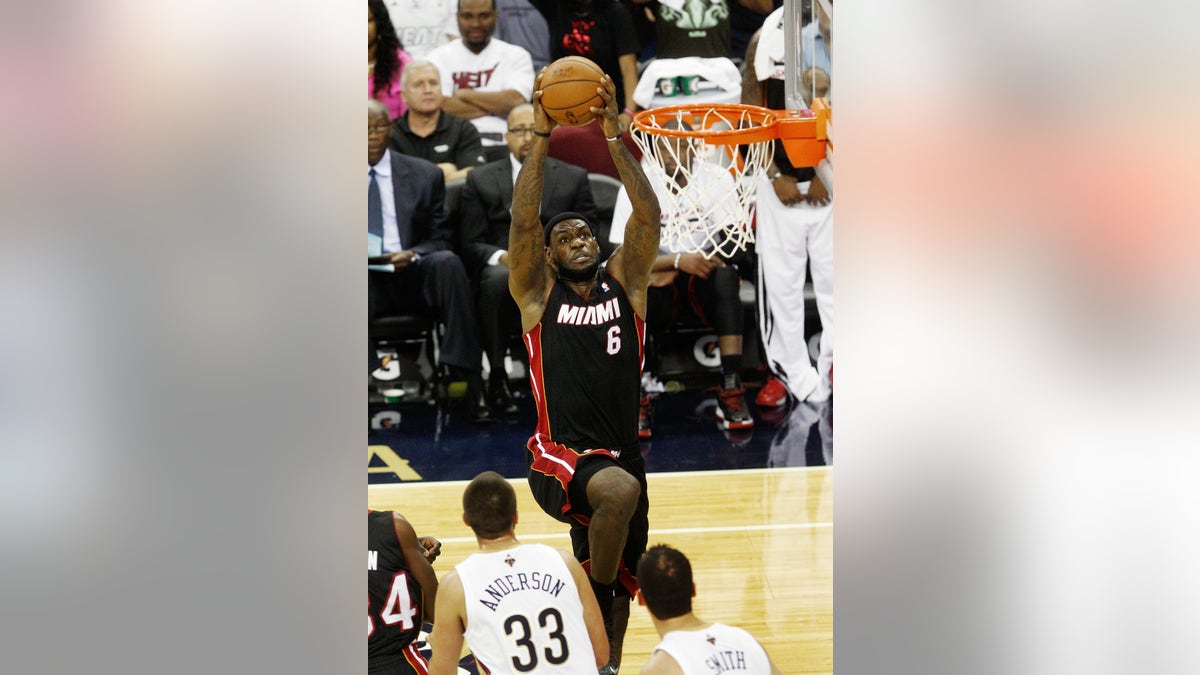 MIAMI – LeBron James was desperate for some time away from basketball, so he packed up his family for a vacation this summer. Sun and sand. Rest and relaxation.
Pen and paper, too.
It didn't take long until the NBA's MVP took a break from taking a break.
Considered the best player in the game, James remains obsessed with getting better. That's why, on the verge of starting his 11th professional season and fourth with the Miami Heat, James fully expects the 2013-14 campaign to be his best one yet. He knows there's no shortage of challengers aiming to knock both him and his team off their respective mountaintops.
"I'm nitpicking now, obviously, at my own game," James said in an interview with The Associated Press. "I want that. I want to be uncomfortable. I want to continue to push the envelope and get to a point where I feel like I'm trying to master everything. Now, I can't be the greatest at everything. There's better rebounders than me. There's better passers than me. There's better scorers than me. But I want to be able to maximize my potential in everything I do."
So that's why, when he finally got some down time this summer — after the season and before his wedding to Savannah Brinson — James didn't allow himself to totally step away from the game.
Even while on vacation, and with a notepad at his side, James broke down every Heat playoff game, every moment of postseason matchup last season against Milwaukee, Chicago, Indiana and San Antonio.
When he saw something that wasn't just right, he wrote it down to further analyze later.
"I push myself," James said. "There are ways I can get better. I would write down the exact time, the exact play, the exact quarter, the plays where I could have did something better."
At 6-foot-8 and 250 pounds, a marriage of size and speed that many covet, the reality is that James probably is not going to get much better physically. His shooting has improved. He's talked plenty in recent months about becoming a better free-throw shooter. His post game has been reinvented. His defense is exceptional.
Where James is getting better, those around him say, is in the thinking department.
"Some skills may get sharper, but where his growth is going to take off for the next 10 years is mentally," Heat forward Shane Battier said. "He's talking about situations now that he wasn't talking about two years ago when I first got here and understanding how to best beat those situations. Everyone always lauds his basketball IQ, but his experience is now really coming through."
Four MVP awards. Two championships. Two Finals MVPs. By the end of this season — after which he could choose to be a free agent again, though he swears that he doesn't know what will happen next summer — he could be among the top 25 scorers in NBA history. Based on jersey sales, there's no more popular basketball player on the planet, something few would have imagined after all the scorn directed his way when he chose to sign with Miami. And he's not even 30 yet.
"He's a special dude," Heat coach Erik Spoelstra said. "He's always going to continue to stay in a state of uncomfortableness. This summer was a busy summer for him and yet he always finds time to get his work in, his conditioning. He wants to add different elements."
One thing he added this summer was a diamond-crusted wedding band.
James' wedding finally happened in September, and out of respect to the couple, guests still are leery to talk about many specifics of that night at a San Diego resort. James thought San Diego would be the ideal spot after holding some youth camps there and seeing how the weather, almost without fail, is perfect.
"The best part of the wedding was probably after the wedding," James said. "It turned into a party. Basically, that's all it was. It wasn't nothing but a big old party. We gave each other our rings and after that it turned into a big old party with all my friends and family. That's all."
On Tuesday night, he gets another ring, his second NBA title ring.
And he insists that he'll do whatever it takes for this season to end with another party.
"The man above has given me God-given ability and talent, obviously," James said. "I want to take full advantage of it."