Moss: 49ers coaches can make Colin Kaepernick's job easier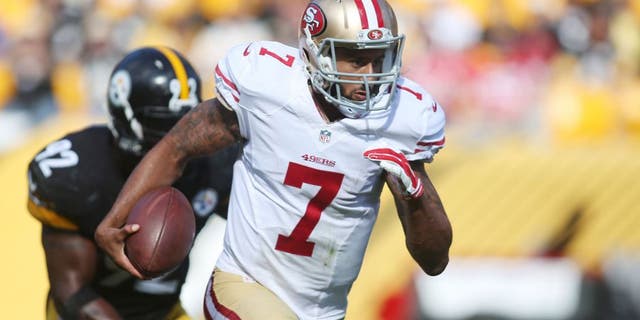 NEWYou can now listen to Fox News articles!
Colin Kaepernick has beaten the Packers three times in his career, and twice in the playoffs. But with the sizzling 3-0 Packers coming to town Sunday, and the 49ers and their quarterback struggling, this may be his toughest task yet.
Kaepernick has just two touchdowns and four interceptions through three games, and two of those were pick-sixes last week against Arizona.
During a "FOX NFL Kickoff" roundtable on Sunday, Randy Moss, who played with Kaepernick in a Super Bowl in January 2013, said some of the young quarterback's struggles could be avoided.
"No he doesn't read defenses well," Moss said. "One thing you don't see in San Francisco is motion."
Moss explained that sending receivers and running backs in motion on offense makes the defense give away some of its coverages.
Check out the full clip above to get the roundtable's take on Kaepernick's struggles this season.