Mookie Betts robbed Chris Carter of a HR and a fan of a souvenir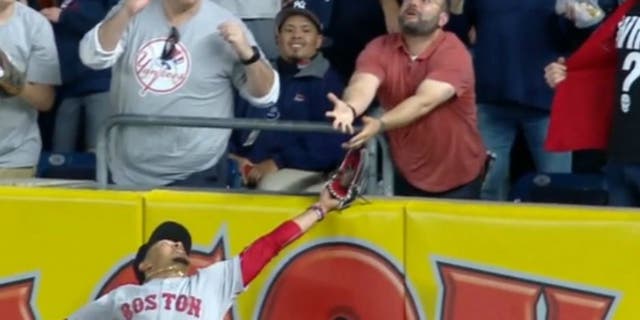 NEWYou can now listen to Fox News articles!
The Red Sox had a rather forgettable night at Yankee Stadium during Wednesdays 8-0 loss with the exception of one play.
Making a case for his second consecutive Gold Glove, Mookie Betts went over the right-field wall to take away a home run from Chris Carter in the sixth inning:
There was some question about whether the fan touched the ball he did but MLB.com reports the Yankees werent granted a replay review because manager Joe Girardi didnt request one within the allotted 30 seconds. Wheres Jeffrey Maier when you need him?
Fan interference or not, Betts said the ball was his all the way.
"I felt like I was going to catch it regardless of it hitting the guy's hand or not," Betts said. "I mean, I was just trying to make a play and fortunately it went in the glove."
Betts was far less successful at the plate than in the field Wednesday, going 0-for-4 with a strikeout. Meanwhile, Carter didnt come away empty-handed, as he homered in the fourth inning and finished the night 3-for-4 with four RBI.
Evan Habeeb | USA TODAY Sports