Miesha Tate retires after unanimous decision loss to Raquel Pennington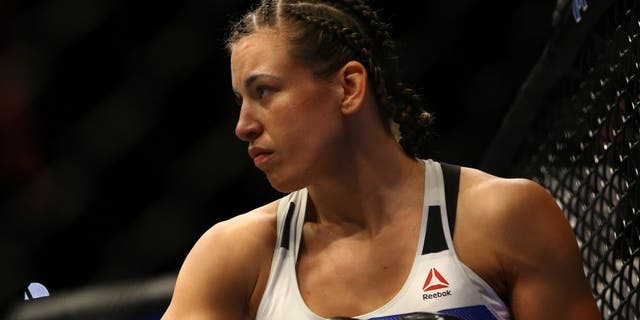 NEW YORK -- Miesha Tate had a bad night at the office, but shocked the world when she announced her retirement from mixed martial arts after a unanimous decision loss to Raquel Pennington at UFC 205.
The fight served as Tate's first bout after losing the women's bantamweight title to Amanda Nunes in July and now it will be the last of her career.
It was a war of attrition in the early going with Pennington popping Tate in the mush, targeting the nose she had shattered by bantamweight champion Amanda Nunes back in July.
Of course Tate has defined much of her career with an unwillingness to break in any of her fights and this was no different. She persevered the early onslaught and dove inside to try and take Pennington to the ground.
That's where things almost turned disastrous for the former women's bantamweight champion as Pennington locked on a standing guillotine choke that looked very tight. Tate leapt and kicked off the cage trying to loosen the hold to eventually slip free of Pennington's vice-like grip.
Once she wiggled free from the submission, Tate was able to get the fight to the ground, but Pennington avoided any real damage once they hit the mat.
The second round was a grinding affair with Pennington pressing Tate against the cage, and punishing her body with punches. Tate returned fire by grabbing onto the Muay Thai clinch and trying to land knees to the head, although Pennington never took any clean strikes.
With less than 30 seconds to go in the round, the fighters separated and Pennington landed a short punch that landed flush, once again bloodying Tate's nose before the final horn sounded.
Tate opted to go for a different attack in the final five minutes as she jumped guard and tried to drag Pennington to the mat while looking for a submission. Pennington did an outstanding job playing defense and then peppering the former champion with short, inside punches while staving off Tate's ground game.
As the fight wore on, Pennington continued to grind Tate into the mat as the former champion just seemed to have no answer offensively off her back.
The judges all agreed after the fight was over that Pennington had done more than enough for the win as she cruised to a unanimous decision victory to pick up the biggest win of her UFC career.
Afterwards, Tate asked UFC commentator Joe Rogan to address the crowd where she congratulated Pennington and then announced her retirement from the sport.
"I'll love this sport forever, but this isn't my time anymore," Tate said.
If that truly is the end of Tate's incredible career, she walks away with an 18-7 record overall while being one of only two women to hold titles in both Strikeforce and the UFC along with Ronda Rousey.