Michael Waltrip after testing Goodyear's Option tires: 'They will go away in a hurry'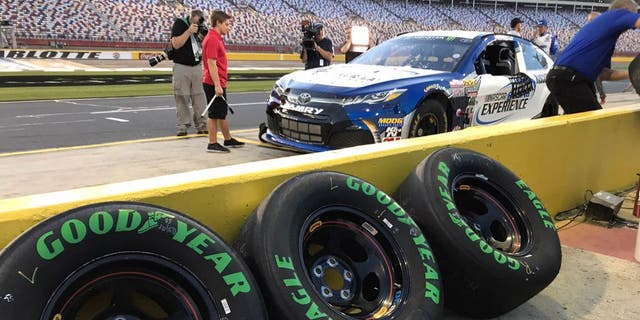 CONCORD, N.C. -- FOX NASCAR analyst and two-time Daytona 500 champion Michael Waltrip had the opportunity to shake down the new Option tires Goodyear will provide to Monster Energy Series teams in Saturday nights NASCAR All-Star Race at Charlotte Motor Speedway (6 p.m. ET, FS1).
Waltrip, 1996 winner of the all-star event, took a NASCA Racing Experience race car out for a few laps on both the Prime and Option Goodyear Racing Eagles.
Although the car didnt reach the speed of the current Cup cars, Waltrip said he got a great feel for what drivers could expect.
I wasnt going anywhere near how fast they will go Saturday night, but the thing is, that car wasnt set up to go that fast, Waltrip said Thursday night at CMS after taking laps. When you run as hard as it will go, its still fun and on the edge.
The biggest thing Waltrip noticed was just how much grip the Option tires had.
The difference was how much harder I was able to run, Waltrip said. Its not set up the way our cars will be Saturday night, for sure. When it hit bumps on the primary tire, it chattered across them. Drivers say it all the time that it chattered the right-rear (tire). I wasnt going to spin out, so I just ran through the bumps under control.
When we put the options on, I was able to go through the same bumps with that same uneasy feeling, but with no chatter, he explained. You could feel the same bumps; the tires wouldnt let the car jump out from underneath me. The last couple laps, I just ran it wide open the whole way around here. I could definitely feel a difference with the lack of the chatter.
Waltrip also noted hes confident that drivers will need to get all they can out of the Options while the getting is good.
They will go away in a hurry; you can guarantee that, Waltrip said. I think they will be perfect for six to eight laps, and then youll just hang on. There will be strategies all over the board. Theres definitely more grip in these tires, thats why they are predicting three- to five-tenths of a second faster on the Cup cars. I could just feel how much more they made the car stick.
Although the Options will provide more grip, and in turn, a little more speed, Waltrip said the Primes will still be a factor.
You could probably run as fast on the primary as you can on the optional because they are new, but I think after a couple of laps, the Options will still go fast and the Primes will fall off, he said. Then it will switch the Options will wear out and the hard ones will have more longevity. I cant wait to watch practice with my stopwatch what they do.
Not only will tires be a big headline in Saturday nights $1 million showdown, but Waltrip is also anxious to see how crew chiefs will decide to use them in the four stage, 70-lap event.
The best thing will be to see how the geniuses up and down pit road will figure out how to use them and when they put them on, Waltrip said. Some people will need to put them on before they want to, because you have to be in it to win it. Its going to be interesting Saturday night.
AP | Logan Whitton/LAT Images www.latphoto.co.uk