Michael Bisping not interested in rubber match with Luke Rockhold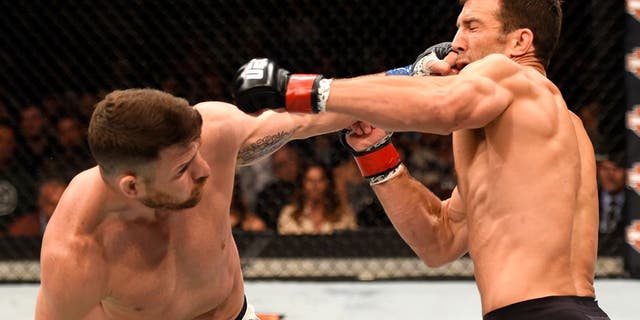 NEWYou can now listen to Fox News articles!
Michael Bisping is currently planning on two more fights before calling it a career, but it doesn't appear he has any designs on one of those matchups coming against former champion Luke Rockhold.
Bisping has laid out a strategy for two more fights in the UFC before retiring, although he has cautioned that plans could change in the future.
Ideally, Bisping would like to fight Georges St-Pierre later this year to defend his middleweight title for the second time, and if all goes well then he would compete in his final bout against the winner of Yoel Romero vs. Robert Whittaker.
In other words, Rockhold just doesn't fit into his plans.
WARNING EXPLICIT LANGUAGE
Bisping and Rockhold are currently tied at one win a piece after meeting on two prior occasions. Rockhold won the first fight by submission, but Bisping exacted his revenge with a first-round knockout last year to become middleweight champion.
Ever since that time, Rockhold has been champing at the bit to get a rematch, but it seems that's going to be awfully hard to do if Bisping isn't fighting any longer.
Of course, Bisping won't say for certain that he's only going to fight twice more before retiring, but that's his current agenda as he approaches his 39th birthday next year.
With a growing acting schedule and opportunities outside of the cage, Bisping has set himself up for a successful career once he's done fighting and the current middleweight champion also knows it's better to go out on top rather than being carried out.
As far as Rockhold is concerned, Bisping doesn't really worry about his reaction or what the former champion says about him these days. Bisping has put his rivalry with Rockhold behind him and he's focused on different challenges including a possible showdown with St-Pierre later this year.
"I honestly don't give him the time of day," Bisping said about Rockhold. "He doesn't enter my mind space at all. I don't think about him. I don't necessarily have any ill will to be honest. I think it's kind of comical to be honest. I don't think of him and I have feelings of hatred and feelings of anger and animosity. I got the last laugh. It's all good."