Mets set playoff rotation for NLDS vs. Dodgers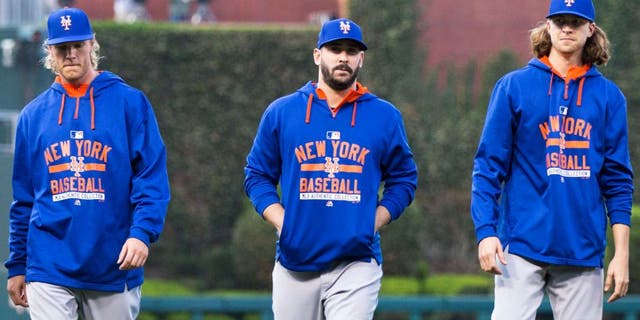 NEWYou can now listen to Fox News articles!
NEW YORK -- The Mets have set their pitching rotation for the first three games of their best-of-five NL playoff series against the Los Angeles Dodgers.
Jacob deGrom will start the opener Friday in Los Angeles, as expected. Rookie right-hander Noah Syndergaard goes in Game 2, followed by Matt Harvey in Game 3 back home at Citi Field.
After that, it's uncertain who would get the ball if Game 4 is necessary. New York would like to start unbeaten rookie Steven Matz, provided his balky back is healthy enough, and 42-year-old Bartolo Colon remains a possibility. But manager Terry Collins said Sunday the Mets might use a three-man rotation if they fall behind 2-1 in the Division Series.
That would mean bringing back deGrom in Game 4 on three days' rest for the first time in his two-year career. Syndergaard would be on full rest for a potential Game 5 at Dodger Stadium.