Mets replace injured Tejada with prospect Reynolds on NLDS roster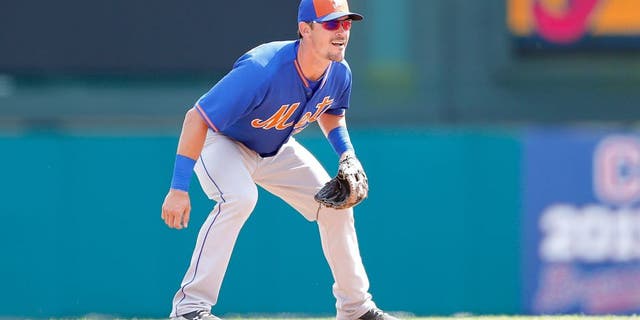 NEWYou can now listen to Fox News articles!
Now that Mets shortstop Ruben Tejada won't be participating in the postseason any longer after sustaining a broken leg in Game 2 of the NLDS, New York has made a move to fill his spot on the roster.
The team announced Sunday that it has replaced Tejada, who fractured his right fibula in a hard collision at second base with Dodgers infielder Chase Utley in the Mets' Game 2 loss in Los Angeles, with 24-year-old shortstop prospect Matt Reynolds.
Mets infielder Wilmer Flores is expected to take over as the team's starting shortstop for the remainder of the postseason; however, if Reynolds plays, he would become only the second player in modern history to make his major-league debut in the postseason, according to the Elias Sports Bureau via ESPN.
In 118 games in the minors this season, Reynolds, who was selected by the Mets in the second round of the 2012 amateur draft, hit .269/.321/.402 with six home runs, 66 RBI, and 13 stolen bases.
The Mets have another infield backup in Kelly Johnson already on the roster, but manager Terry Collins said they prefer to be equipped with a backup who is more adept specifically at the shortstop position.
"No disrespect to Kelly. He's a tremendous utility player," Collins said. "But we just thought, if Matt's going to be the guy, that we are protected at shortstop with a guy who has played a lot of shortstop."